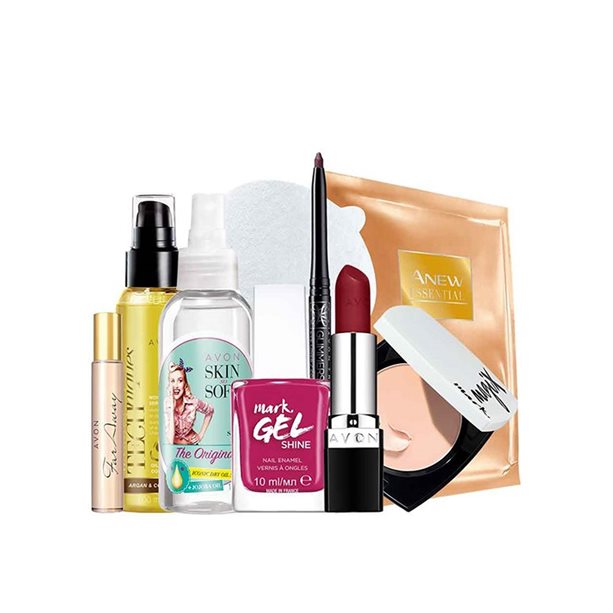 The Avon Best of Beauty Box contains 8 of Avon's iconic items from across the decades. It's a must have for any beauty lover.
What's included:
True Colour Glimmerstick Eyeliner in Cosmic Brown – For perfectly shaped eyes that last all-day.
Far Away EDP Purse Spray 10ml – Our bestselling fragrance in handbag size.
Anew Essential Youth Maximising Sheet Mask – Give your skin a super-boost of hydration in 15 minutes.
mark. MagiX On The Go Primer 10g – This skin-smoothing primer blurs imperfections flawlessly.
True Colour Perfectly Matte Lipstick in Ravishing Rose – 100% matte, 100% comfort. This lipstick has it all.
Advance Techniques Argan & Coconut Oil Moisturising Serum 100ml – Thirsty locks? Hydrate your hair in an instant.
Skin So Soft Original Dry Oil Spray – Limited Edition Design 150ml – Enjoy silky-soft skin in seconds.
mark. Gel Shine Nail Enamel 10ml in Fabulous – Gel-like shine on your nails, without the UV lamp
The items come presented in a lovely beauty box and would make a perfect gift for someone else, or just for you to enjoy. Based on individual prices when not on offer the contents are worth £50!
I have one of these boxes to give away to one of my lucky readers. The contents may vary a little but will be of the same value.
Would you like to be in the chance to win one of these lovely boxes? My competition has a few ways of entering. Using the gadget below I am asking you to sign up to my Avon Store which will give you 5 entries into the competition. The other requests will give you an extra entry, you can choose which ones you want to do, or do them all for the best chance of winning.
If you sign up to my Avon Store you will be asked for your private details which will be kept private and used for Avon orders only. You do not have to make an order to enter, but if you choose to do so in the future, having an account will make it easier for you. You will receive occasional e-mails with offers from Avon. The only time I will use your details is if you win a prize. The best thing is, everyone who does sign up will be entered into a draw to win a prize every single month for as long as I am an Avon Representative.
EXTRA NOTE: I am offering extra entries for completing the sign up to receive e-mails, but I've noticed that although these have been filled in on the widget the sign ups on the site have not been completed. No-one is obligated to sign up to enter the competition you can use the other entry methods, but if you have not completed the Avon Website registration then your extra entries will be invalidated. I hope you understand. If you name is picked by the widget then I will check that you have completed your entry correctly and if not, then I'll cancel and move on and draw again.
Other entries include following my Instagram and Facebook pages and tweeting for me.
Rules and Conditions
competition is for UK entrants only (sorry)
prize is provided by myself
prize is subject to slight changes but will be of the same value as promised
All information collected will not be sold on to any other company.
Avon will have the right to e-mail you if you sign up as a customer
All Winners will be checked to see that they have completed their part of the competition.
Good luck everyone!
a Rafflecopter giveaway