As you know I'm big fan of Etsy, you can always find something lovely for a gift for anyone. There are loads of ideas for Valentines Day which is just around the corner. But you could also get something for Mother's Day which is March 19th this year. Or, as I often do, you could just treat yourself.
So here are my Valentines picks and you can always find more on my Etsy Favourites Page here. I am also an affiliate for Etsy, which means I could earn a little commission if you choose to buy something from one of my links, at no extra cost to yourself. So, thank you very much for supporting my little blog x
Etsy Valentines Day For Her
There are oh so many sweet things to choose from to show that special person how much you love them. Click each image to be taken directly to the item.
The flower necklace has a custom birthstone and costs £39. I adore the custom song photo, you can customize it with your favourite photo and special song. Sadly the photo does not play the song it's just printed for decoration purposes. It's still a lovely idea and only £9.99.
The bookmark is a personal favourite of mine, perfect for a book lover and it comes in a range of colours with your own personal engraving. It's only £9 and an extra £1 for the gift box. I chose the daisy ring because it is so sweet. For stirling silver it's a bargain at £13.98 but it's currently on sale so the price will increase.
Etsy Valentines Gifts For Him
I think it's always harder to find romantic gifts for the man in your life, or maybe that's just me. I've found a few things that I know my husband would like to share with you.
You can't really go wrong with a personalised key ring and these ones are leather and personalised and a steal at only £6.99. Or Maybe a wallet insert just to remind them who loves them the most, I think this is really cute and it costs £4.99 (currently on offer, price will increase to £5.99)
Instead of a box of chocolates how about a chocolate board with a loving message. This one costs £17.05 with the chocolates and a personalised photo. Most couples have a favourite song, or maybe you could add your wedding song to this lovely print. It is fully customisable and you can buy it as a print your own, print in several different size options, or a framed print of your choice. The price range is £7.99 to £38 depending on what you choose.
Gifts for Anyone
Maybe you would like to treat yourself, your daughter, your Mum, your best friend or even your pet! you can find so much on Etsy, here is my final little montage of gifts, remember you can click each image to be taken directly to the product.
I hope my post has given you some ideas. I'd love to know what you are planning for Valentines day? I quite like the idea of a nice meal (at home) followed by some chocolates, wine and a good movie.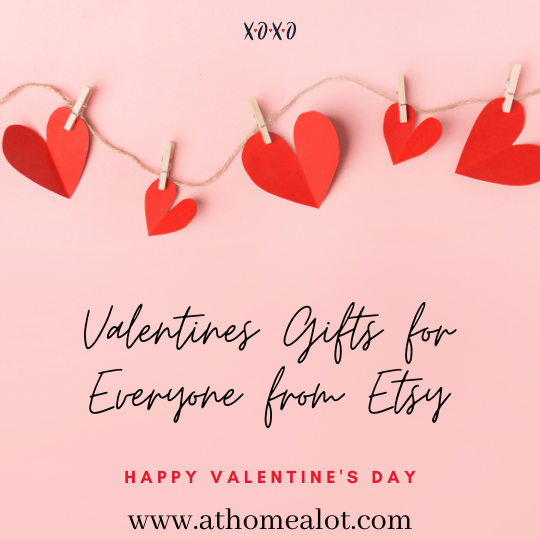 My disclosure and privacy policy can be found here.