I found this fabulous pattern for a crochet mosaic hat and it really appealed. The best thing about mosaic crochet is that you don't have loads of ends to weave in because you don't have to change the colours you just bring them in each row. You can get some really fun patterns from mosaic crochet and it's not that difficult to master once you can read the charts.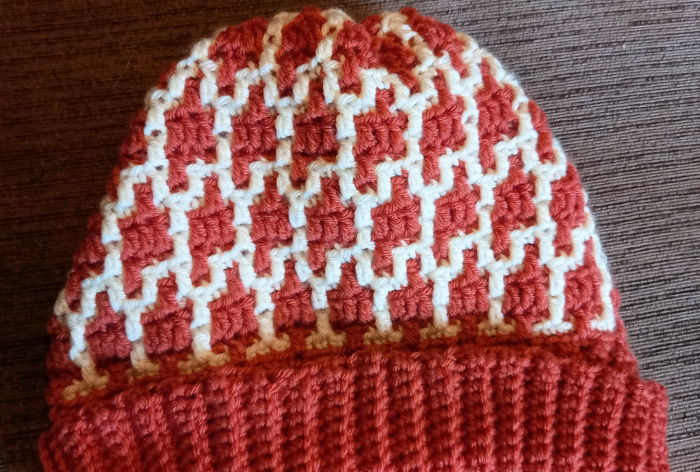 The pattern isn't exactly right, but I think it still looks good. I think the great thing about these types of patterns is that you can make it more unique when you get it wrong, so long as it fits okay! I just need a pom pom on the top now, but I haven't decided yet whether to make one or buy a fake furry one. I love the rustic autumn colours which I bought from Deramores my favourite wool shop. The wool is Studio Aran which is great value but feels so soft. Choosing your wool is one of the fun parts of crochet. I did have to put a ban on myself for buying wool earlier this year, but after using up over half of my stash I decided that it wouldn't hurt to get some more wool especially as the seasons are changing. I can see a lot of hats and scarves being made if I am well enough.
Here's me wearing the hat…yes, it definitely needs a pom pom.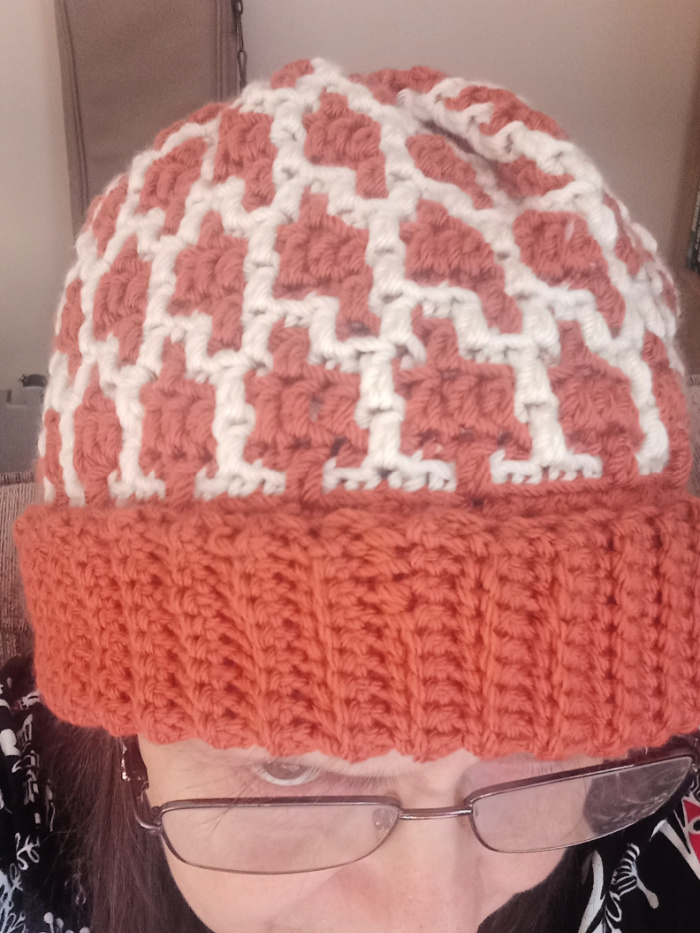 I'm going to make another now, maybe in a child's size so I can put it in my Etsy Shop.
You can find out all about the pattern here on MJs Off The Hook Designs. I bought the book so I have two more designs to try out using very different techniques.
Do you crochet?
This post contains affiliate links which may earn me a little money if you click through but will cost you no extra. Thanks for supporting my blog.
My Pink Baby Cardigan