On 22nd April to co-inside with Earth Day, Bookshop.org will be hosting a special event with The Green Grocer Author and Iceland MD Richard Walker. This will take place as an online debate with Chris Packham ( naturalist, television presenter, writer, photographer, conservationist, campaigner and filmmaker.)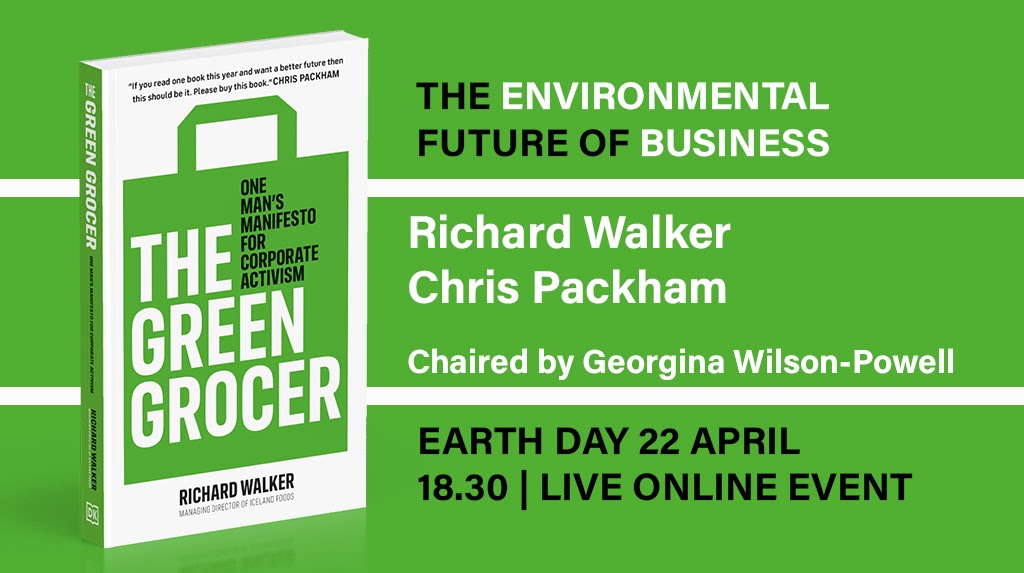 To get your invitation to this special event all you have to do is buy a copy of The Green Grocer (affiliate link) and then you will be e-mailed an invitation to the event. Remember to save the date and time, April 22nd 6.30pm.
The Green Grocer
Learn how to green your business with the help of one of the UK's leading corporate activists.

Running a sustainable business doesn't mean that you can't make a profit. In this inspiring book, readers that own businesses of all sizes will learn the value of pursuing ethical policies through the journey of the author's quest to "do it right".

Inside the pages of this sustainable business book, you'll find:

– Expert advice on practical ways that businesses can help reverse climate change and promote social justice while generating a profit
– Chapters addressing plastics, responsible supply chains, the impact of COVID-19, and building a legacy that inspires the next generation
– Real-life examples from Iceland's ongoing quest to be sustainable give insights into leadership and sustainable business


In the face of global warming, companies are moving towards more eco-friendly business practices and embracing their corporate social responsibility. The Green Grocer explores how one business owner did just that.

Richard Walker, who owns a GBP3bn supermarket chain, Iceland, is disrupting this critical sector with his own brand of corporate activism. From restricting single-use plastic to eradicating palm oil from products in his supermarkets, he explains how you too can make genuine progress on sustainable initiatives while being realistic about profit margins, and obligations to customers and employees.

This intimate, challenging, and encouraging book, offers clear-sighted experience and inspiration for any business, whether a large corporation, a start-up, a kitchen-table entrepreneur, or a sole trader, to make a difference.
Product Details
Earth Day
Earth Day is an annual event, currently in it's 51st year. It includes a wide range of events globally in more than 193 Countries.
The theme this year is Restore Our Earth and features five primary programs: The Canopy Project, Food and Environment, Climate Literacy, the Global Earth Challenge, and The Great Global CleanUp.
Earth Day is the opportunity to educate and inform others about environmental issues and includes discussions on how we can prevent the potential disasters from climate change.
To join in your activities can be large or small. Here are a few ideas;
Take a Walk and note down animals, insects, birds and plants.
create a scavenger hunt
Discuss food chains
Discuss biodiversity
Clean up litter in your local area
Try a Meat Free Day
Create a garden patch or window box
Focus on saving energy and water
Earth Day Org has a complete Education Resource library where you can find out so much more about Environmental issues and Earth Day.