I joined Mindful Chef a while back. My main mission was to find inspiration for healthy meals for me and my eldest son while not having to buy a load of ingredients that the rest of the family wouldn't eat. We are not dieting, but we are unhealthy and wondered if we could improve our health through our diet, mainly through mindful eating.
Mindful Chef is a food box delivery service where you choose from a selection of recipes each week and they deliver the food and recipe for you to make at home. You can choose how many meals you want and for how many people. There is lots of choice including vegan and vegetarian as well as meat dishes. The difference is, the food is all put together with health in mind.
I recently bought the cookbook from Mindful Chef so I could try some more of the recipes without having to wait for my box delivery. I thought there may be some things I could make up for the whole family too. I wasn't disappointed and we've already tried four of the recipes from the book.
Why be Mindful about What you are eating?
We all, generally, think about what we are eating. We know when we are having too much sugar or salt, or even fatty foods. We think about when we rely on too many ready meals or take outs. But thinking about it and being mindful are two different concepts.
And Mindfulness is a word that is used a lot these days, with not many actually understanding it. With Mindful Chef the object is slow down from the hectic life style and living a healthy fulfilling life with food and nutrition being a fundamental part of this. Mindful Chef choose fresh food from the farm cutting out the supermarket, deliver just the right amount of ingredients to reduce waste and choose recipes that are wholesome with not refined carbs and totally gluten free. They also make them really tasty which is a bonus.
What do You get From Mindful Chef?
Well, we have not had a meal we've not enjoyed. There was one week where our menu got mixed up and we had recipes we'd not ordered. But they were fantastic about it and gave us the next box for free! Great customer service too. If you think you might like to try Mindful chef you can get 25% off your first four boxes just by using my referral link. I also get £10 off my next box too, so thanks if you give it a go.
Here are some of our plates from recent weeks.
Thai Red Curry with Courgetti
This was super tasty and I loved the courgetti, although I would say it would be good to drain it a little before putting it on the plate. It seemed to have quite a lot of liquid. You can put it in a sieve after spiralising it. (don't have a spiraliser, I bought one for about £5 off Amazon!)
Dukkah Pork
Not the best of photos as it's hard to see the pork which was the star of the dish. Dukkah is a really tasty coating and we have replicated this dish again since. It was also the first time I had charred lettuce, but it was surprisingly tasty.
Pork Meatballs and Parsnip chips
Confession time, this plate was my son's and he really wasn't keen on the parsnip chips, so I made him a little pasta to go with his. Pasta is high in carbs, so not entirely in line with the mindful chef way, but it doesn't hurt to stray sometimes. These meatballs were incredibly tasty. And I loved the parsnip chips.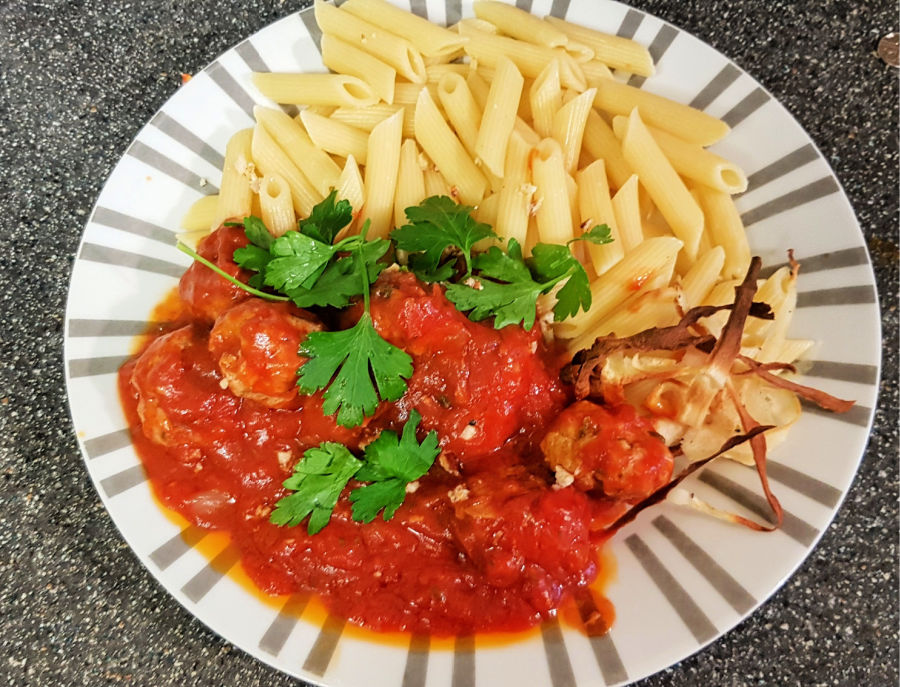 What do you think? Would you give mindful eating with Mindful Chef a go?