I bought this book myself but this post contains affiliate links.
Author: Rachael Lucas
Format: Kindle Edition
File Size: 2548 KB
Print Length: 401 pages
Publisher: Pan (9 Jan. 2020)
Sold by: Amazon Media EU S.à r.l.
Language: English
ASIN: B07WRDCG7Y
The Blurb
The Cotswolds: the perfect retreat for a stressed-out teacher. And Lucy has found just the right cottage for a bargain rent. All she has to do is keep an eye on Bunty, her extremely feisty ninety-something neighbour . . .
With her West Highland terrier Hamish at her side, Lucy plans to relax and read up on the women of nearby Bletchley Park. But the villagers of Little Maudley have other ideas, and she finds herself caught up in the campaign to turn a dilapidated telephone box into a volunteer-run library.

Along the way, she makes friends with treehouse designer Sam, and finds herself falling for the charms of village life. And it seems Bunty has a special connection to Bletchley and the telephone box, one that she's kept secret for decades . . .
My Review of The Telephone Box Library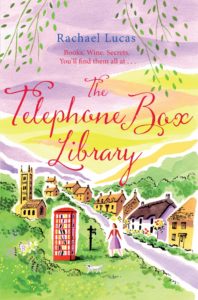 After a tough long read, (like 1Q84) I like to go with something lighthearted and fun, and maybe with a little romance. The Telephone Box Library ticked all these boxes.
I was initially attracted to the book because I am fascinated with telephone box libraries, what a fabulous idea they are. Sadly, putting one in our area would probably just encourage vandalism. But putting one in a country village sounds idyllic.
The second thing that attracted me was the connection to Bletchley Park, one of the most favourite places I have visited. The stories emerging from that place are really interesting.
If I had one little disappointment, it might have been the lack of description of Bletchley Park, but I really can let that slip. The story was warm and endearing and had just the right amount of little twists and turns. I loved Lucy and Sam, the main characters and of course I was rooting for them all the time. But the real star of the show was Bunty and I loved her story.