I previously wrote an post Five Tips for Working Avon Online. I'm going to work through each of these tips in details and the first one was to open your Avon Store Online.
Step One -Open your Store
First you need to log on to your Avon online account.

Click the representative log on/registration. If it's your first time you will need your Avon business number and decide on a password.
Once you have logged on you will see your welcome page. You can choose manage your business to check and place your orders, but today we are going to open your Online Store, so click on the box on the right.
Update Store Settings and Profile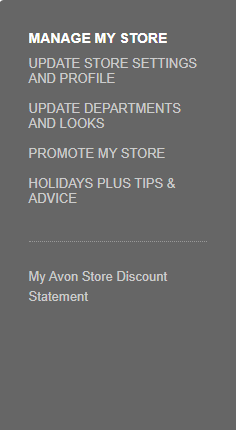 When you log on you will see a menue on the left on side as in the picture above. The same menu will also appear in taps across the top of the page.
Start at the beginning and click Update Store Settings and Details
Set your online store name

the beginning of the site will be the same www.avon.uk.com/store…..
you choose the name of your store. I chose AnneSweet
so my url is www.avon.uk.com/store/annesweet
Then you fill in your contact details so people who visit your store know how to get in touch. You can put your e-mail and telephone number and then set the times that you are available for people to contact you. i.e. your hours of working for Avon.
You then choose your delivery area, where you are prepared to deliver brochures and orders.
Then its time for the personal touches like a photo of yourself and a personal message for people visiting your shop. Adding a personal touch makes your site more appealing to customers.
The next setting is Find a Representative.
This enables you to appear in 'Find a Representative' when customers are looking for a rep. in their area.
This should bring you more local custom so I'd advise to fill it in.
Make your Store Status 'open'
Select show or hide
If you want to opt in to appear in 'Find a Representative' search you will need to click New Customers. If you only want to serve your customers that you are already familiar with then click 'customers who know you'
I would strongly advise to click the New Customers if you wish to do a lot of work online.
The final option is to Hide from 'Find a Representative' Search. This will stop you from showing up if someone in your area is looking for someone to buy from.
Delivery settings
YOu can choose whether to offer personal rep deliveray and direct delivery, or direct delivery only.
Decide whether you will receive parcels for local people and take it to them. Or only accept people who are willing to have their deliveries direct from Avon.
If you are working online only you will prefer for your customers to have direct delivery. However, a lot of customers prefer a personal service and if you can get out locally, it would be a good idea to offer this.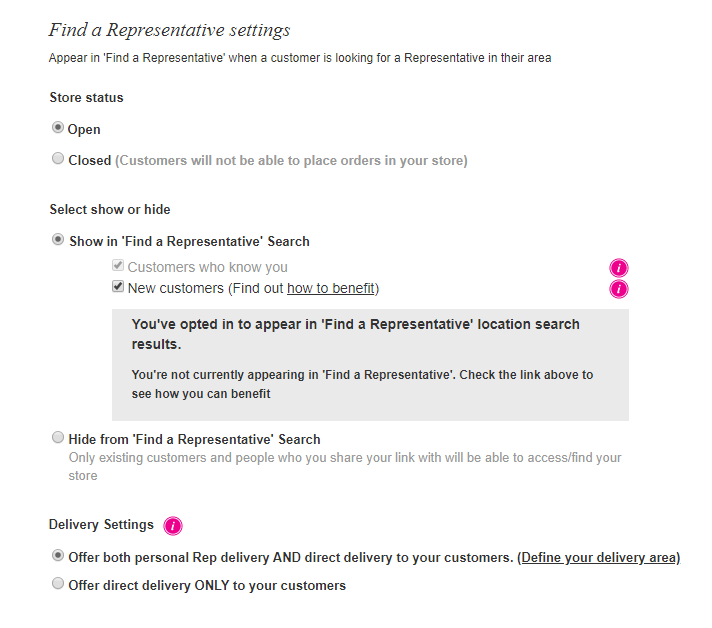 Automated Payment Option
If someone buys from your online shop and choose direct delivery it will show as a credit on your account.
You can choose to be paid your commission through bank transfer or through automated payment through your mobile number linked to your bank account.
Once you have completed these steps you can click the next tab, Update My Store.
Update Avon Store Content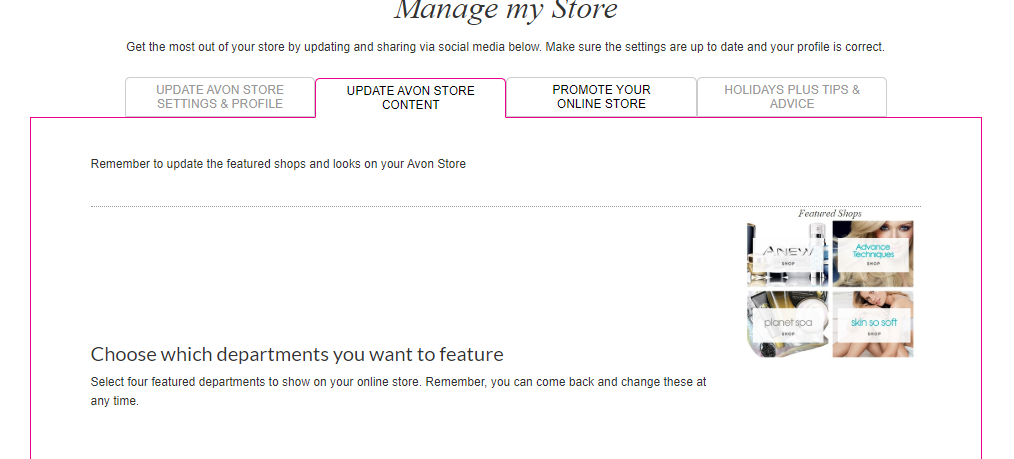 Here you can choose which departments you want to feature on the front page of your Avon Store. You can change these as often as you like.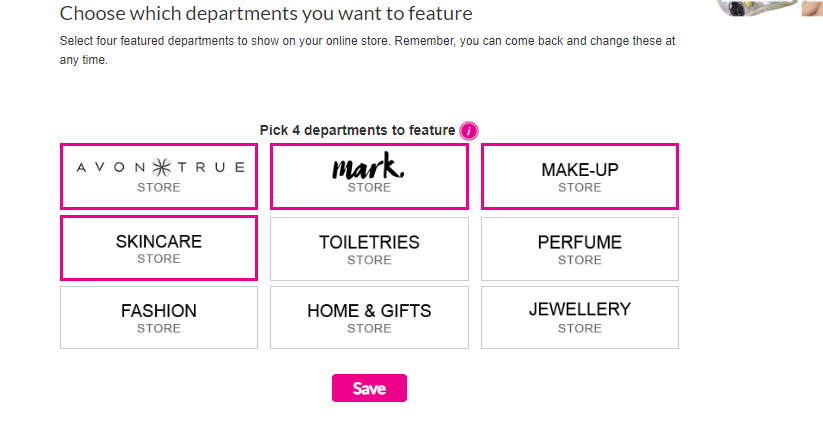 Once you are happy you can save your changes and click the next tab.
Promote Your Online Store.
The Next Step is to promote your store through social media
If you don't have social media accounts you will need to set them up. Make separate pages from the ones you already use. I'll go into more detail about social media later, but you will need to create a Facebook page especially for your avon, you will also need twitter, Pinterest and Instagram.
You will need your store link and use it as often as you can.
You also get the options to email customers who have already signed up.
I will tell you how to get subscribers in a later post.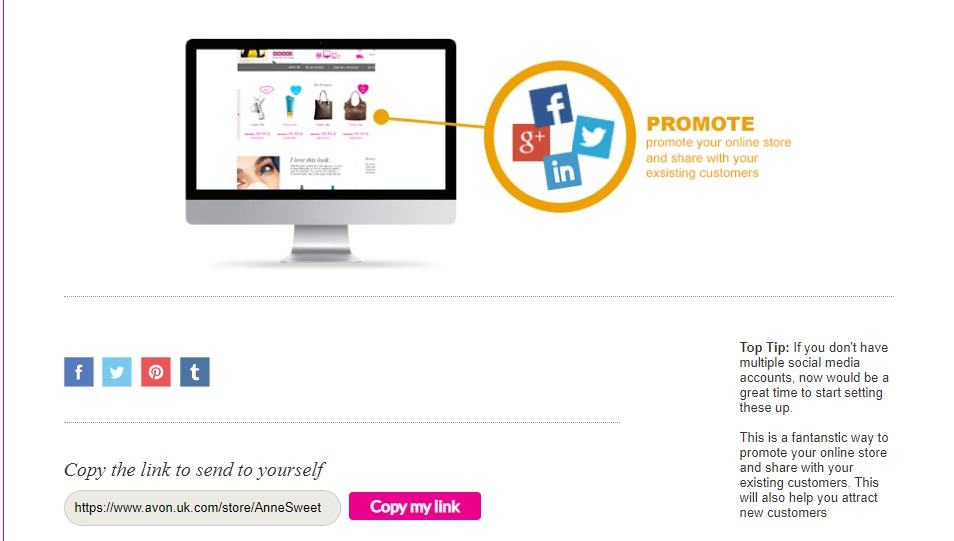 Holidays plus Tips and Advice
The final tab tells you how to keep selling while you are on holiday, but it's important to make sure that local customers know you will not be delivering while you are away.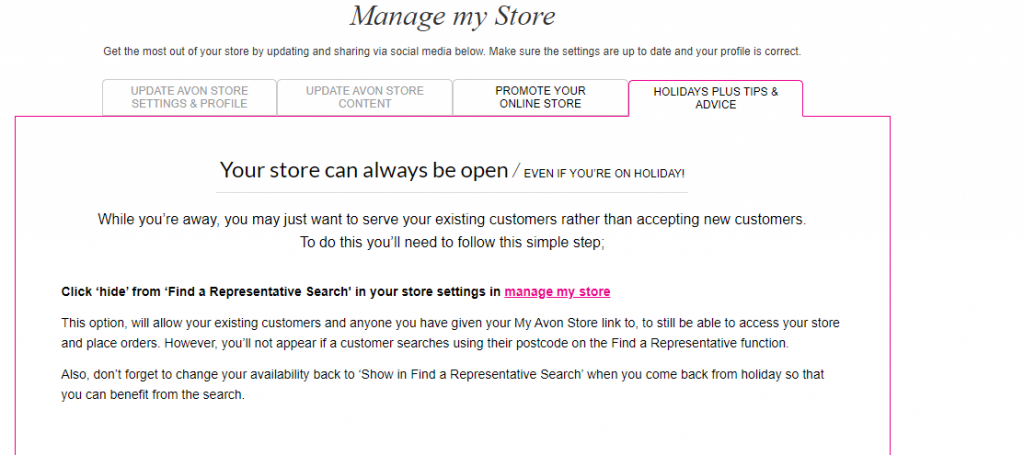 It also has some good tips and advice for you to read.
These are all really important so do read them and click through the links to make sure you have everything set up ready to go.
Now it's time to get selling!
Watch out for my next blog posts!
My Avon