I've not written a meal plan for a couple of weeks, but this week I'm back with a recipe too. Mapo Curry is a Japanese dish that is popular in china! This recipe is my daughter's version which we find delicious.
Mapo Curry
INGREDIENTS:
500g minced pork
350g firm tofu
250 ml of chicken stock
1 tbs Red Miso paste
1 tbs Oyster Sauce
1 tsp of harissa paste
1 tsp dark soy sauce
1 tsp sesame oil
1 tsp cornflour
1 inch of fresh ginger, chopped
2 garlic cloves, finely chopped
3 spring onions, chopped
boiled rice to serve
METHOD:
Prepare the sauce by mixing the cornflour soy sauce, harissa paste, oyster sauce, miso paste, chicken stock in a bowl.
Prepare the tofu by slicing into 1 inch squares
put the sesame oil in the pan and gently fry the garlic and ginger for about 1 minute then add the mince, stirring until brown.
Add the sauce and mix well, bringing to the boil.
Turn down the heat and add the tofu, stirring gently to coat without breaking it up.
Serve with boiled rice and sprinkle with the spring onion pieces.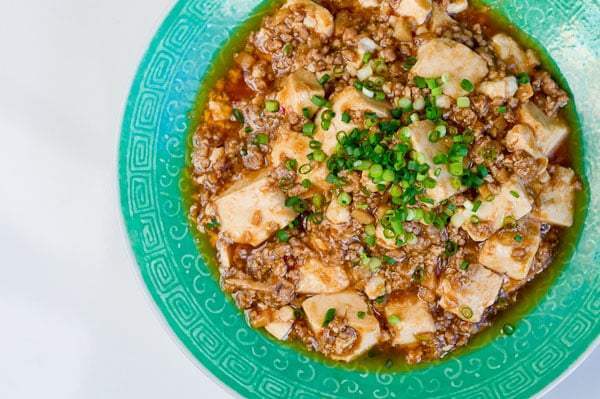 I know the ingredient list sounds long, but most of it can be used more than once. It's been one of our favourite dishes for a long time. My husband is allergic to sea food so the oyster sauce is replaced with plum sauce and we make his up seperately. All ingredients can be found in most supermarkets. I always buy from Sainsburys.
The curry can be cooked in the time it takes to boil the rice, so remember to get that on first 🙂
We had Mapo Curry last week, so it's not on our menu this week.
Weekly Meal Plan
Saturday – Quiche and salad
Sunday – Pies and mash
Monday – I'm in hospital so it will probably be a take out
Tuesday – Lasagne
Wednesday – Paella
Thursday – curry (From a jar)
Friday – Fish and chips
See my last weekly meal plan here.