I've been a fan of Terry Pratchett since the 1990s and I love his books. I recently saw Moving Pictures on special offer on audible so I thought 'why not' it's been a while since I read an early book, and Moving Pictures is 10th in the Discworld series.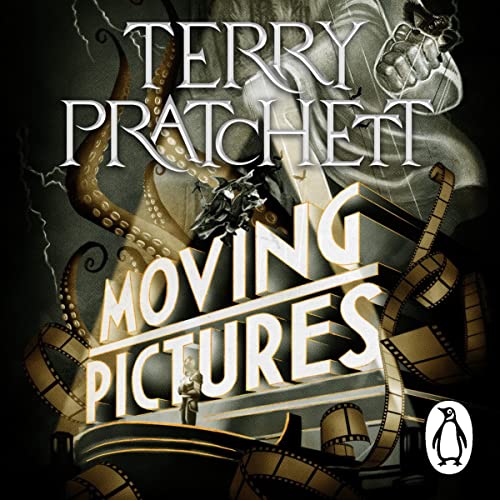 The Blurb
'HOLY WOOD IS A DIFFERENT SORT OF PLACE… HERE, THE MOST IMPORTANT THING IS TO BE IMPORTANT.'
A new phenomenon is taking over the Discworld: moving pictures. Created by the alchemists of Ankh-Morpork, the growing 'clicks' industry moves to the sandy land of Holy Wood, attracted by the light of the sun and some strange calling no one can quite put their finger on…
Also drawn to Holy Wood are aspiring young stars Victor Tugelbend, a wizarding student dropout, and Theda 'Ginger' Withel, a small-town girl with big dreams.
But behind the glitz and glamour of the clicks, a sinister presence lurks. Because belief is powerful in the Discworld, and sometimes downright dangerous…
The magic of movies might just unravel reality itself.
The Discworld novels can be read in any order but Moving Pictures is a standalone.
The first book in the Discworld series – The Colour of Magic – was published in 1983. Some elements of the Discworld universe may reflect this.
My Review of Moving Pictures.
First of all the book/story. This is stated to be a stand alone book which means it's not in any particular sequence in the Discworld series. However, it would help to have some prior knowledge of the Discworld to get the full benefit. A lot of characters, such as the Wizards, Death and the trolls are featured a fair bit in the story, but unless you are familiar with the Discworld then you wouldn't really fully understand their relevance.
The basic story is that in this strange other world they are just discovering 'the movies.' Only they don't really understand what they are doing and why they have these strange urges to do what they are doing. A young girl wants to be famous, but doesn't really know why. A young wizard becomes famous but doesn't really want the fame. An entrepreneur is suddenly overwhelmed with advertising solutions when he doesn't really know what advertising is. They are all a bit confused and whinging their way through it all, but that's the 'magic' of the movies, or 'talking pictures. 'Moving Pictures.'
As the story unfolds we have romance, adventure, excitement, talking dogs (and other animals) magic and hundreds of elephants. It all sounds a little crazy doesn't it? Wait until you get to the climax with the antagonist dragging a gorilla to the top of a tall building.
I love the late Sir Terry Pratchett's humour and story telling. How he can make something so normal seem totally ridiculous. He really makes you laugh out loud, but it's better if you understand all the little nuances too.
The Audio Book. The audiobook of Moving Pictures is narrated by Jason Isaacs, best known for playing Lucius Malfoy in the Harry Potter film series, and for his starring roles in The Death of Stalin and Case Histories. BAFTA and Golden Globe award-winning actor Bill Nighy (Love Actually; Pirates of the Caribbean; Harry Potter and the Deathly Hallows) reads the footnotes, and Peter Serafinowicz (Star Wars: Episode I – The Phantom Menace; Shaun of the Dead) stars as the voice of Death. Featuring a new theme tune composed by James Hannigan.
A fairly new recording which was a joy to listen to. I'm not really a Harry Potter fan but I thought Jason Isaacs was a great narrator, and Peter Serafinowicz was a great Death (who is one of my favourite Discworld characters.) There were not a huge amount of footnotes in this story…they are introduced by a jingling sound and read by Bill Nighy. When I've listened to Terry Pratchett's audio books in the past I've found the footnotes a little annoying…yet I loved them in the books.
If you've not read any Terry Pratchett then I would suggest starting early just so you can get to know some of the characters and a feel of how the Discworld works.
Unseen Academicals by Terry Pratchett
The Hogfather by Terry Pratchett.
Interesting Times by Terry Pratchett