You may be aware that I have a shop attached to this blog. I like to sell things that encourage mindfulness, but one of my passions is crystals. I find crystals are great for mindfulness activities, just holding one and feeling it can make you feel better. I always have a crystal beside my bed. I have a lovely bowl of crystals on my sideboard.
One thing I really like is a crystal bracelet so you can wear your crystals wherever you go. I've a few bracelets in my shop for sale in hope of adding more when they are sold.
These are the bracelets I am currently selling: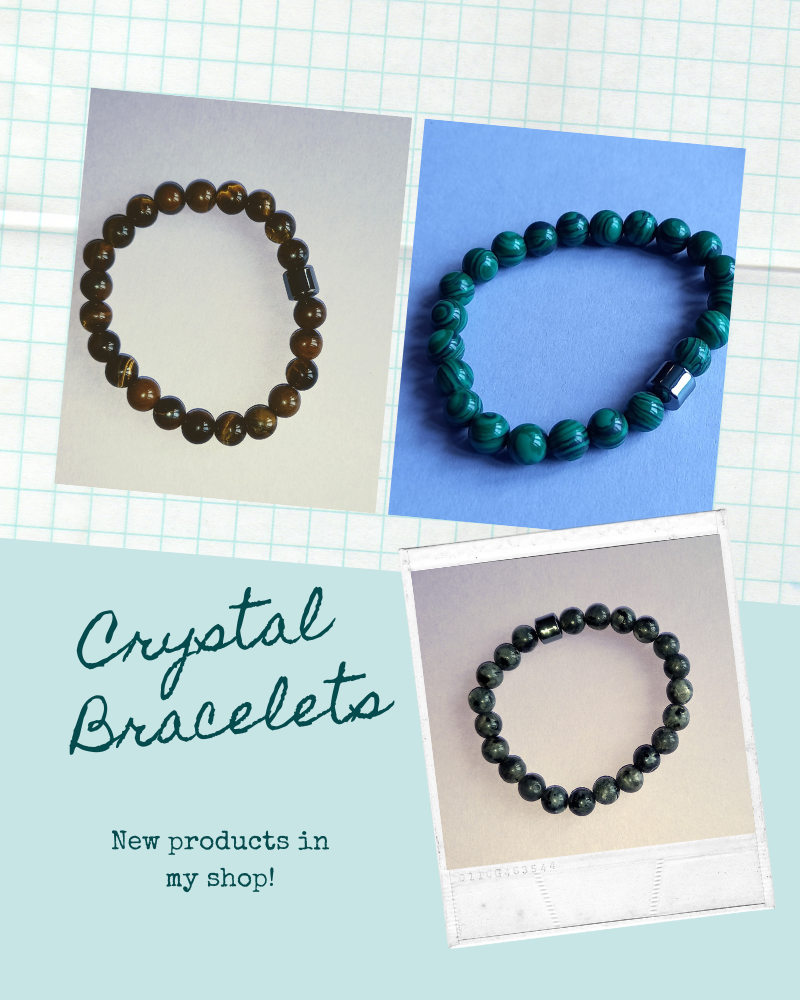 Top Left of collage
Tigers Eye is a member of the Chalcedony mineral class family. It has a silky luster and an opaque transparency. Tiger's Eye is commonly a metamorphic rock that comes in shades of reddish brown with iron stripes.
The benefits of Tigers Eye
protection
clear thinking
personal empowerment
integrity
willpower
practicality
grounding
power
courage
Top right of collage
Malachite is a mineral that naturally forms above copper deposits deep in the earth. Malachite is recognized for its striking green colour ranging from pastel green to bright green and ending at the dark green spectrum.
The benefits of Malachite:
calming
loyalty
leadership
protection
wisdom
comfort
balance
peace
self-understanding
positive transformation
healing
Health Benefits of Malachite
heals cramps
helps during labour
helps with pre-menstrual tension (PMT)
helps period pains
boosts immune system
lowers blood pressure
helps with arthritis
Labradorite is used for:
mental clarity
creative inspiration
strengthen intuition
increase confidence
It's health properties are:
eases anxiety and stress
boosts your metabolism
boosts your immune system
regulate hormones
lower blood pressure
Bracelets
Each of my bracelets cost just £5.99 with £3 p&p
You can read about why I opened my little shop here.
I also sell journals, Mind Cards, Wish Bracelets and Pocket Hugs.