I'm a big fan of Terry Pratchett and have been so for 30 years. So yes, I've read the Hogfather, I've also seen the film. But this was the first time I have listened to the Audiobook and I chose it for my Christmas read.
This post contains affiliate links, thanks for your support of my blog.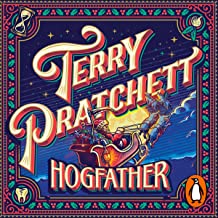 The Blurb
Twas the night before Hogswatch and all through the house…something was missing.
The stockings are hanging ready, the sherry and pies are waiting by the fireplace – but where is the jolly fat man with his sack? It's not right to find Death creeping down chimneys and trying to say 'Ho ho ho' – but someone's got to bring the little kiddies their presents. Or else they might stop believing. Belief is important in Discworld, particularly on the last night of the year when the time is turning. If the real man in the red suit isn't found by morning, there won't be a morning. Ever again….
The Discworld novels can be listened to in any order, but Hogfather is the fourth book in the Death series, a festive feast of darkness (but with jolly robots and tinsel too).
My Review
Terry Pratchett books are generally stand alone, and you could read The Hogfather without having any prior knowledge of the characters. However, you'd miss a lot of the jokes and references that run through all the Discworld books. Once you start reading you become a part of the world, a part of the family of characters and even the slightest reference will create a smile. Sir Terry was a brilliant author and I will admit that I cried real tears when I heard of his death in March 2015. I've been a part of several fan groups from way back in 1998. My very first internet search was 'Terry Pratchett.' But all this is not what you are here for so lets get on with the review.
The Hogfather is set on Discworld, a whole new universe where things are the same but different. For instance, their is one night a year where a fat man in a red suit drops down people's chimneys bringing gifts. Only on the Discworld, this man is actually a huge Hog/Pig. This year however, he has gone missing so Death has decided to take on the task. Death is a scary skeletal character, but he's only doing his job when he turns up with his scythe to take a dead persons soul. It's not something he enjoys, it's his duty.
Death also has a family (it's a whole other story) and one member is his grand daughter Susan, who is trying to live a normal human life as a nanny.
Together they are trying to find out what has happened to the Hogfather, and why things keep appearing and disappearing, and it's all down to children's teeth and magic.
It's not your typical cheerful Christmas story, but it does have a lot of laugh out loud pieces. Sir Terry had a brilliant talent for bringing together the dark side of human nature along with humour. He has so much insight into the human psyche which is why he is revered and enjoyed by all kinds of readers. The Hogfather is a great story with loads of little pieces that you have to fit together like a jigsaw, while making you think about things. This is my favourite quote from the book.
"All right," said Susan. "I'm not stupid. You're saying humans need… fantasies to make life bearable."
REALLY? AS IF IT WAS SOME KIND OF PINK PILL? NO. HUMANS NEED FANTASY TO BE HUMAN. TO BE THE PLACE WHERE THE FALLING ANGEL MEETS THE RISING APE.
"Tooth fairies? Hogfathers? Little—"
YES. AS PRACTICE. YOU HAVE TO START OUT LEARNING TO BELIEVE THE LITTLE LIES.
"So we can believe the big ones?"
YES. JUSTICE. MERCY. DUTY. THAT SORT OF THING.
"They're not the same at all!"
YOU THINK SO? THEN TAKE THE UNIVERSE AND GRIND IT DOWN TO THE FINEST POWDER AND SIEVE IT THROUGH THE FINEST SIEVE AND THEN SHOW ME ONE ATOM OF JUSTICE, ONE MOLECULE OF MERCY. AND YET—Death waved a hand. AND YET YOU ACT AS IF THERE IS SOME IDEAL ORDER IN THE WORLD, AS IF THERE IS SOME…SOME RIGHTNESS IN THE UNIVERSE BY WHICH IT MAY BE JUDGED.
"Yes, but people have got to believe that, or what's the point—"
MY POINT EXACTLY."
― Terry Pratchett
Death always talks in capitals.
The Audiobook
As I said, I have read the book and watched the film but the audiobook was a new experience for me. It was read by Sian Clifford who was brilliant, apart from when she did the voice of the Arch Chancellor Ridcully. He does shout a lot but Sian's shouting did get on my nerves a little. Bill Nighy read the footnotes, which were great, but may be confusing to someone who has never read Terry Pratchett and doesn't understand his little footnotes and the need for them. Death was voiced by Peter Serafinowicz who was also brilliant and perfect for the part. I've seen the film many times and always thought the book was better. I'd still say the book was best even though I really enjoyed the audio book. I have the special edition bought for me by my daughter.
If you have not read any of Terry Pratchett books, I'd highly recommend them. A lot of fans say that he got better after the first few books but I started (with the second book) there and I've loved every one of them. Some more than others.
Terry Pratchett also wrote some brilliant children's and young adult books. I have a selection in my online shop
You can also find his books in all good bookshops including Amazon.