Description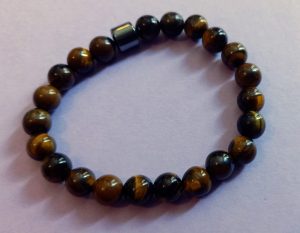 Tigers Eye has many qualities and this pretty little bracelet will give you the benefits while you wear it on your wrist.
This is a 7 inch bracelet on a stretchy elastic base.
Tigers Eye is a member of the Chalcedony mineral class family. It has a silky luster and an opaque transparency. Tiger's Eye is commonly a metamorphic rock that comes in shades of reddish brown with iron stripes.
The benefits of Tigers Eye
protection
clear thinking
personal empowerment
integrity
willpower
practicality
grounding
power
courage
Thank you for supporting my small business.
You can read all about why I opened my shop on my blog post here.