I put up my hand I'm not a fashion guru, but when it comes to Autumn Fashion it gives me a little chance to promote my crochet creations.
I have a shop on Etsy with some items that may make Autumn a little warmer for you, and I am currently holding a 30% off Sale. So please forgive me for the self promotion but here are my Autumn Fashion items for todays Blogtober22 prompt.
(I'm attempting to post every day in October for the Blogtober22 challenge but I will be sharing the posts between this blog and my other blog Raisiebay.)
Fingerless Gloves and Scarves
For The Little Ones
I also have some handmade items for babies and children including some lovely mosaic hats and a cardigan. The blue and white hat is baby size while the red and grey and the scarf and hat set are child size.
Other Items
Finally I have a few other items such as crochet bags, a shawl and a blanket. Everything in my shop at the moment is under £10 except for the blanket and child had and scarf set.
I haven't really sold much from my shop and that's why I'm having a sale at the moment. I don't really want to put all the work into making more stock if It's not going to go to a good home. I've just finished a blanket for myself. I think I have about six now, but I like making blankets so much. They are a little expensive to make though, and selling them usually comes at a loss. So I tend to keep my blankets.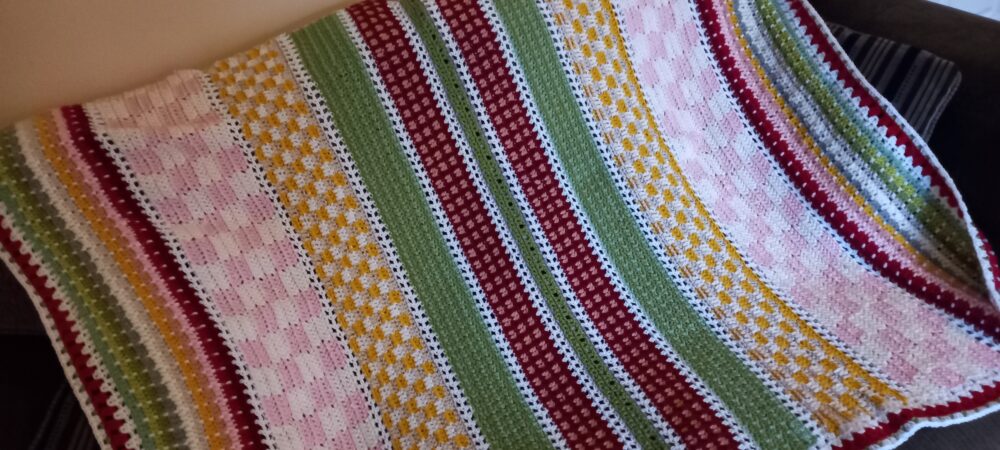 I love to crochet while listening to my audio books, it has to be my favourite activity. What do you like to do in your spare time?