I really enjoyed The Twyford Code by Janice Hallet so I was keen to read The Appeal. After reading Sarah's review I was excited to get stuck into this book.
This review may contain affiliate links which if you click and go on to purchase something it may earn me a little money at no extra cost to you. Thank you for supporting my blog.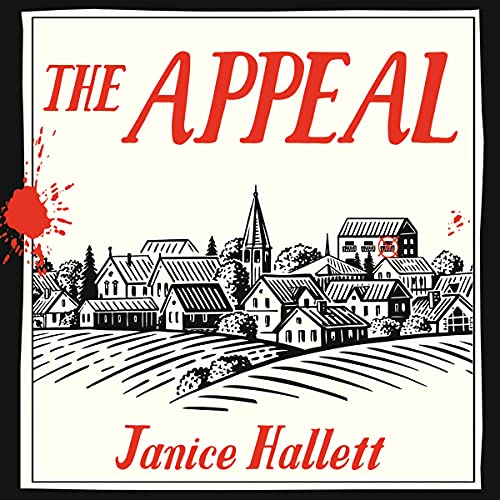 The Blurb
In a town full of secrets…
Someone was murdered.
Someone went to prison.
And everyone's a suspect.
Can you uncover the truth?
Dear Listener – enclosed are all the documents you need to solve a case. It starts with the arrival of two mysterious newcomers to the small town of Lockwood and ends with a tragic death.
Someone has already been convicted of this brutal murder and is currently in prison, but we suspect they are innocent. What's more, we believe far darker secrets have yet to be revealed.
Throughout the Fairway Players' staging of All My Sons and the charity appeal for little Poppy Reswick's life-saving medical treatment, the murderer hid in plain sight. Yet we believe they gave themselves away. In writing. The evidence is all here, between the lines, waiting to be discovered.
Will you accept the challenge? Can you uncover the truth?
The standout debut thriller of 2021 that delivers multiple brilliant twists and will change the way you think about the modern crime novel.
My Review
I was really looking forward to this book and I had big hopes. I like things that are a little different and involve puzzles as well as mystery. I didn't enjoy this as much as I had hoped though. I think I remember saying that I'd rather read it as book because of the format of the story. It was written in e-mails and documents and while listening as an audio book each e-mail is read out in full including who it was from, the subject line and who it was too. This wouldn't have been too bad if so many of them were not just a sentence long, some even just one word. I'd have much rather read them. A lot of them seemed a little pointless too….did these people never actually speak to each other?
What made it more bearable was the voice actors, each one told the story very well and in character.
I found the story quite predictable but the author tries too hard to throw you off the scent. The format is different and interesting but a little tedious at times.
I didn't connect with any of the characters which I think always makes a story less enjoyable.
A lot of the reviews for this on audible say they wish they had read rather than listened to this book, even the good reviews. I have to agree. The Twycross code was ok to listen too and the heading of the documents that are read out are readily accepted. However, the reading of each detail of an e-mail and then the content being just one word, did get annoying after a while.
The story itself was quite interesting but so many things were really obvious that even the 'red herrings' didn't seem to sway my decisions. I can't say this was a bad book, I just think The Appeal would have been more interesting and easy to read as a book.
Try Audible Free then £7.99 a month after your 30 day trial. This gives you one credit for a book of your choice, but you can also find some great bargains.
You can buy The Appeal in paperback for just £7.50 from Waterstones.