I am a fan of Janice Hallett and have so far read all of her books. I couldn't resist The Christmas Appeal and picked up a hardcover copy in Sainsburys.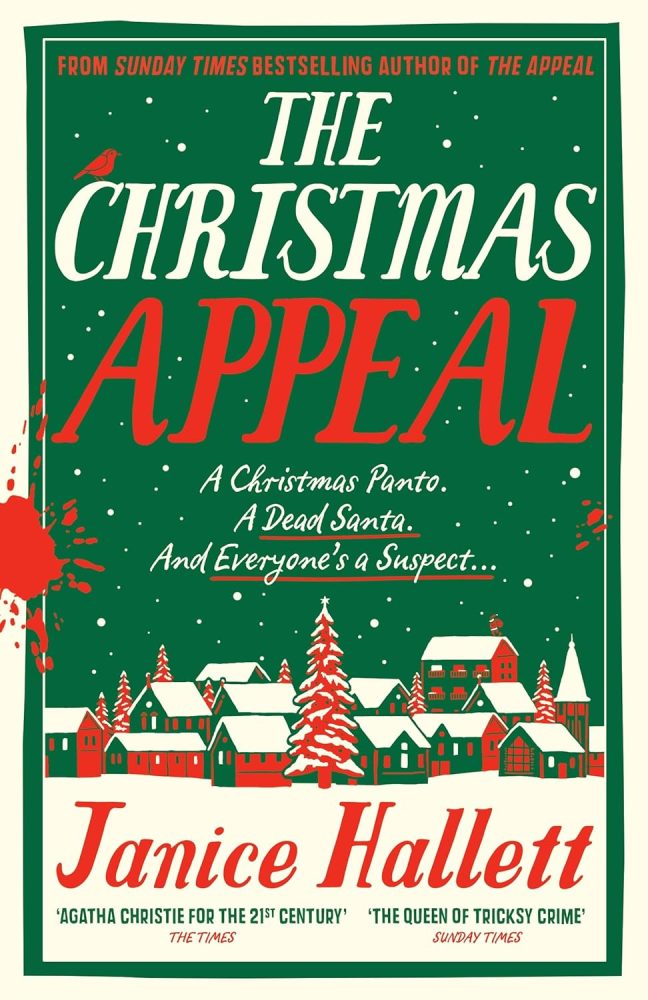 The Blurb
One dead Santa. A town full of suspects. Will you discover the truth?

Christmas in Lower Lockwood, and the Fairway Players are busy rehearsing their festive pantomime, Jack and the Beanstalk, to raise money for the church roof appeal. But despite the season, goodwill is distinctly lacking amongst the amateur dramatics enthusiasts. Sarah-Jane is fending off threats to her new position as Chair, the fibreglass beanstalk might be full of asbestos, and a someone is intent on ruining the panto even before the curtain goes up.

Of course there's also the matter of the dead body. Who could possibly have had the victim on their naughty list? Join lawyers Femi and Charlotte as they read the round robins, examine the emails and pore over the police transcripts. Will the show go on?
The Christmas Appeal My Review
When I first listened to The Appeal on Audible I was a little frustrated. I loved the story but the reading of all the text messages, e-mails and Whats App were quite annoying. Later Audible recording of The Alperton Angels, was much more satisfying and easier to listen to.
The Christmas Appeal is actually a novella so a quick and easy read and a nice follow up to The Appeal. Many of the same characters appear and even though the same process is followed with the story told in text, e-mails and Whats App messages I did enjoy it more in book form. I devoured it pretty quickly and I'm kind of glad I didn't use my Audible credit on a book that is only 3 1/2 hours long.
So, onto the story. We are back in Lockwood and as I said, there are many familiar characters. I loved the humour that shone through in this book, it was much funnier that any of Janice Hallett's previous books. The Fairway Players are putting on a Christmas Panto and it's all rehearsed and ready to go in just weeks. The Panto is an old 1970s script and Sarah-Jane Mc Donald is in charge and wants to make this a night to remember. Well, in short, we have drugs, dead bodies, asbestos scares and even a drama over cake sales. The mystery is not really very intriguing, there doesn't mean much to solve and there are a few twists but nothing spectacular. But, the book is still a fun and interesting read. A definite page turner. I do have a feeling this is not the last we hear of The Fairway Players of Lockwood, but even if it is they certainly know how to put on a show.
My advice would be to see if you can pick this book up cheaply as it is a novella. I paid £6 for my copy in hardback.