I was intrigued about the Twyford Code by Janice Hallett after reading Sarah's Review on Mum of Three World. I decided to use my Audible Credit on the book.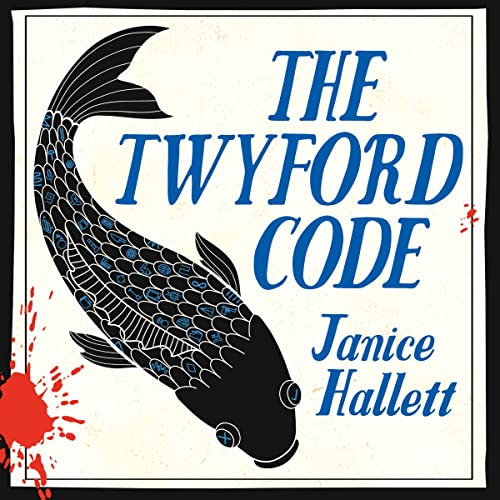 The Blurb
It's time to solve the murder of the century….

Forty years ago, Steven Smith found a copy of a famous children's book by disgraced author Edith Twyford, its margins full of strange markings and annotations. Wanting to know more, he took it to his English teacher Miss Iles, not realising the chain of events that he was setting in motion. Miss Iles became convinced that the book was the key to solving a puzzle and that a message in secret code ran through all Twyford's novels. Then Miss Iles disappeared on a class field trip, and Steven has no memory of what happened to her.

Now, out of prison after a long stretch, Steven decides to investigate the mystery that has haunted him for decades. Was Miss Iles murdered? Was she deluded? Or was she right about the code? And is it still in use today?

Desperate to recover his memories and find out what really happened to Miss Iles, Steven revisits the people and places of his childhood. But it soon becomes clear that Edith Twyford wasn't just a writer of forgotten children's stories. The Twyford Code has great power, and he isn't the only one trying to solve it….
My Review of the Twyford Code
Reading through other reviews of The Twyford Code I can see mixed results which is exactly what I feel about it. It was a truly intriguing read with a great story, but the presentation of the story in transcripts was a little annoying at times.
I listened to the audio book which I think enhanced the experience (until the end, where I had to rewind the last 30 seconds about 5 times, but you won't get why unless you read/listen for yourself so I won't spoil it for you.)
The story is told in transcripts, so instead of chapter headings you are given dates and times. The story is recorded on a phone and then transcribed by a computer program. This causes some anomalies but there are reasons for these. By listening to the story it felt like actually listening to the recordings rather than reading the transcripts.
Stephen, the main character, has been released from prison after an 11 year sentence, but why? It's clever how the story unfolds and how Stephen wants to find out what happened in the past and to re-connect with his son. I've read many books in letter or diary form, but transcripts are a new way of communicating a story. All is not how it seems, even transcripts don't turn out exact.
Listening to the transcripts was interesting but also annoying at times. I have two main complaints. One was the swearing, I'm not a huge fan of swearing but you'd reckon a criminal like Stephen would swear which is ok. But each swear word was bleeped out, which could be annoying at times. I found it difficult to listen to Stephen. I know it was a transcript so not his actual voice, but it was difficult for my brain to process that this criminal with the appropriate language, could talk with such a formal voice. It just wasn't 'Stephen' but I found myself wanting to listen to Stephen. I guess in this sense, reading the book would be more advantageous. In hindsight, I think it was quite genius so I feel bad for complaining.
The ending changed tone because you are listening instead to Stephen's Son who is a professor and has received the files from a police officer. (It does state this at the beginning just after the encrypted dedication.)
The son pieces together the story from the transcripts bit by bit until you finally understand what has happened.
I found the story quaint, but the whole presentation ingenious.
You can also buy the book on Amazon, this is an affiliate link.