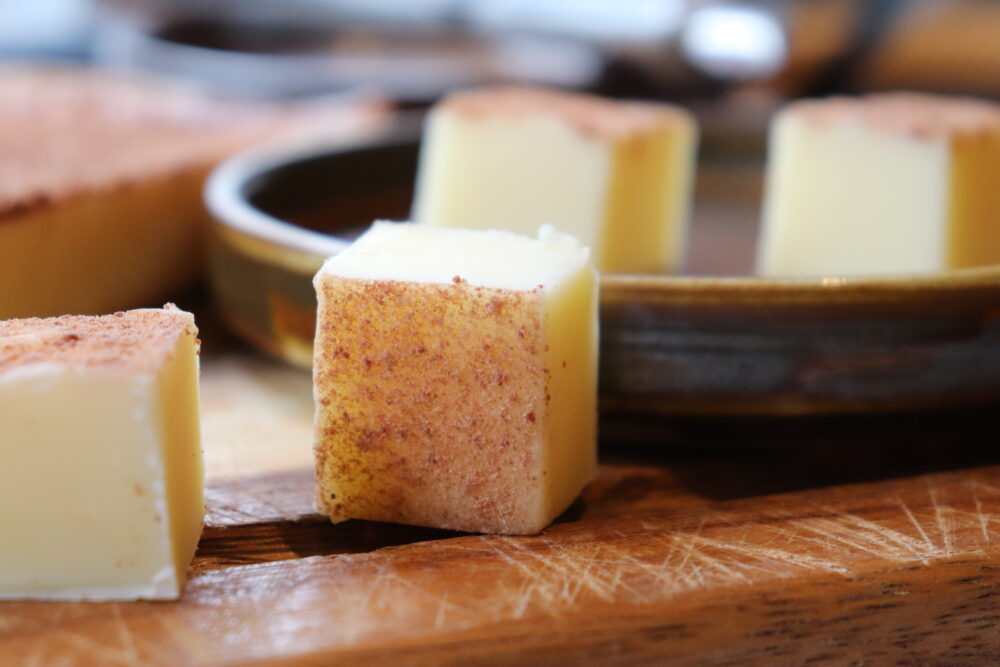 This is Kindling's signature petit four, but it also makes an excellent Mother's Day gift. Sweet, creamy and soft this white chocolate fudge is perfect with a cup of coffee or espresso martini.
The Kindling restaurant in Brighton, UK have given me permission to share this recipe with you just in time for Mother's Day. Of course I had to try it out for myself. Let's see how I compare to a professional restaurant.
White Chocolate Fudge with Dark Chocolate Crumb

To make the dark chocolate crumb:

30g water
125g sugar
60g dark chocolate
Put the water and sugar in a pan and cook to 168C, checking the temperature with a
thermometer suitable for high temperatures.
Remove from the heat, stir in chocolate to create the soil.
Cool on a baking paper lined tray, then chop to a medium crumb.

To make the fudge:

500g of caster sugar
150g of glucose syrup
280g of double cream
330g of white chocolate, chopped
75g of butter
Line an 8 inch cake tin with non-stick paper.
Place the sugar, glucose syrup and double cream in a large saucepan over a medium heat. Cook whilst stirring to a temperature of 114C. Be careful not to heat the mixture too strongly because it can bubble and spit. Be patient, heat it steadily and keep stirring at all times.
Once the mixture is at the correct temperature, remove it from the heat and add the butter and chopped white chocolate. Stir well until everything is melted together. If the mixture is a little stiff, you might want to return it to the heat for a few seconds to ensure it is liquid enough to pour into your tin.
Pour the mixture into the prepared cake tin and immediately sprinkle the top with the chocolate soil.
Allow to cool at room temperature, then wrap the tin in clingfilm and chill overnight in the fridge.
The fudge is easiest to cut when cold and should be stored in an airtight container in the fridge.
How did I get on with My White Chocolate Fudge?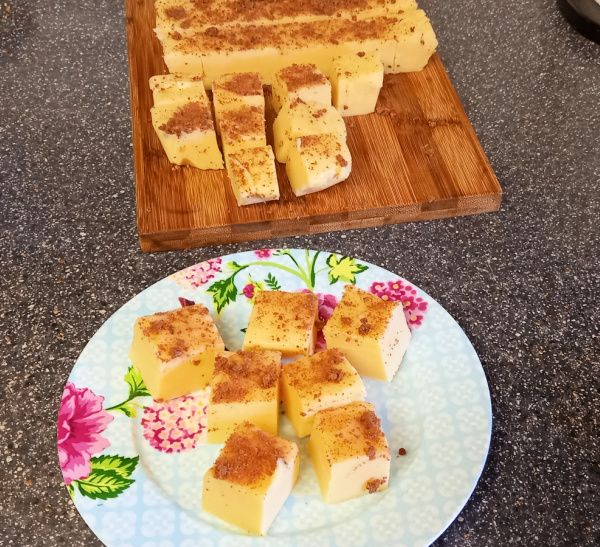 I do like making fudge, but I generally make it with condensed milk and chocolate and it's really simple. But, I wanted to give this recipe a go and as you can see above, I did!
I found the chocolate crumb the hardest part, it seemed to take forever to get the sugar mix to heat up to 168C and when it did it started to caramelise. Maybe my thermometer wasn't good enough and the temperature not quite right. Still, I managed to get enough crumb to make a coating, the rest was clumped up in lumps which I couldn't break up they were so hard.
The fudge was a little easier, if not tedious. Thank goodness I have a kitchen stool to sit at the stove with. I was stirring for a lifetime or so it felt. Then I added the chocolate and butter and gave it a good stir before pouring it in the pan and adding the crumb. I then put it in the fridge until the next day.
When I took it out of the fridge it actually felt just like fudge while I was cutting it. It kept it's shape and tasted really, really delicious. It needs to be stored in the fridge as I think it will become very soft and sticky. I don't think ours will last until Mother's Day!
I would make this again, but I'd probably not bother with the crumb and just sprinkle some cocoa powder on the top.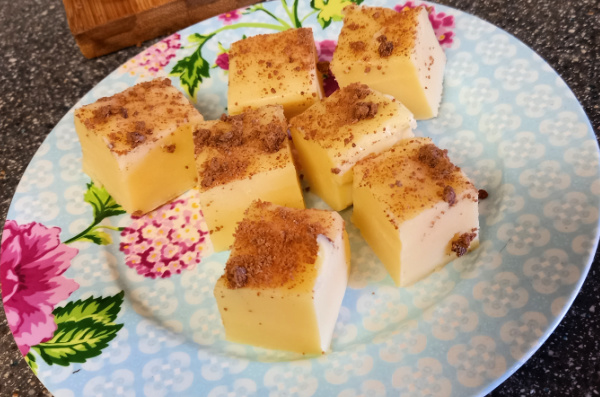 Here is another fudge recipe you might enjoy Helwa Tat-Tork Maltese Nut Fudge
Building a Chocolate Gingerbread House