Last night we went to a Karaage restaurant because even though we've been making our own Karaage for a long time, we've never eaten it out before. It was super delicious.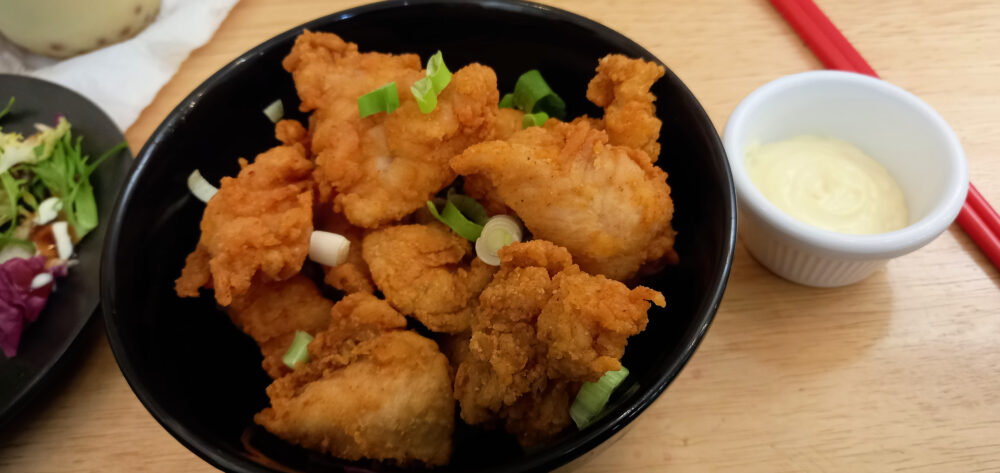 How to Make Karaage at home
It's such a simple recipe but oh so delicious. It's also pretty cheap to make and can be served alongside sticky rice or even chips. We love the mayonnaise but you can use a dipping sauce of your choice.
Ingredients:
chicken thighs
1 tbs Mirin (or Sake if you can splash out)
1 tsp sugar
2 tbs soy sauce
1 inch of grated ginger or a tbs of ginger spice
1 clove of garlic
1 egg
2 tbs cornflour
2 tbs plain flour
cooking oil
Method:
chop chicken into bite size pieces
make marinade by mixing mirin, soy sauce, grated ginger, crushed garlic and sugar
coat chicken for about 1/2 hour (we did it overnight once but found it too overpowering.)
heat a wok or large pan half full with oil for deep frying.
put marinated chicken in a large bowl add egg, flour and cornflour and mix thouroughly.
put chicken into hot fat for a few minutes turning once, it's best to do it in batches so it doesn't stick together.
while cooking the next batch leave chicken under a low grill, or warmed oven.
When all batches are cooked, give them a second dip in the oil until a lovely golden colour.
drain on kitchen paper
serve with favourite dip and sides if you wish.
We use Kewpie Mayonnaise for our dip. (affiliate link)
Tips: use the best quality chicken thighs you can find, some like skin on, some don't. We are not keen on the skin. Don't over cook but make sure all your chicken is cooked through. Double frying ensures this but also adds an extra crispiness.
Enjoy!
If you like street food you may enjoy Mowgli Street Food over on The Williams World.
Another recipe from At Home a Lot, White Chocolate Fudge