I spotted The Widow, by K.L. Slater on Audible to listen to for free. So, I did. I know I've read something from K.L. Slater before so I knew it would be my kind of book. I like a good psychological thriller.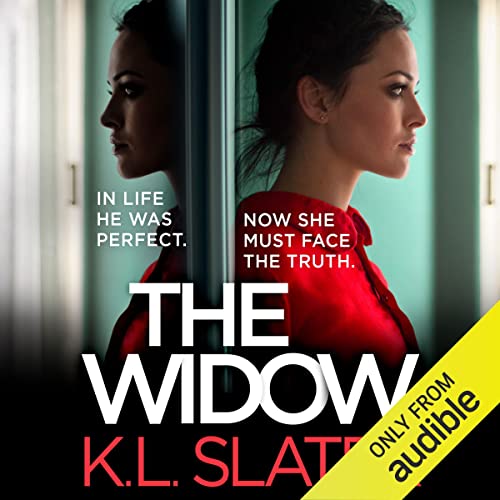 The Blurb
My husband was not a monster. No matter what they say….
The day my husband, Michael, stepped in front of a lorry after being questioned by the police, my world fell apart. He was devoted to me and our six-year-old daughter. But they'd connected him to the disappearance of a young mother from our tiny village.
Now I stand at Michael's funeral, clutching my little girl's hand, with tears in my eyes as I insist to all our friends that he died an innocent man. Yet the questions have started, and nothing I say will stop them digging for the truth.
But none of them can read the secrets in my heart, or know about the phone I found hidden in his toolbox….
I'm determined that my daughter will not remember her father as a monster. I will erase any hint of wrongdoing in this house whatever the cost.
Because to keep my daughter safe, the last thing I need is for people to start looking at me….
My review of The Widow
When a young woman goes missing in a small village you can just imagine that foul play is at hand…but who is responsible. It seems that the finger is pointing to Kate's husband Michael, and he does have something to hide.
I loved all the twists and turns in this story, it's a great ride. The story does sometimes go back a year to when Jakob first arrives in the UK. But where is he now? Where has Suzie gone, surely something awful must have happened to her if she left her six year old son behind?
Kate is concerned that her husband Michael is hiding something and his apparent suicide only leads you to believe that he did have something to do with Suzie's disappearance.
I love how it all comes to light and we learn what really happened. Although, the writing can go a bit of tangent at times.
I listened to this on audible and the narrator was great to listen to, even managing a fairly decent Polish accent. It took me less than a week to listen because I just had to know what happened next. (I generally take about two weeks to get through a book unless I'm in hospital.)
There is one thing I find disturbing about K.L Slater is that she has a tendency to focus on child abduction and death. It wasn't until I finished that I remembered that the last book I read of hers, Safe With Me, also featured child abuse and death.
The Widow is also available on Amazon