After really enjoying The Strange Journey of Alice Pendlebury by Marc Levy I decided to give another of his books a try. I chose All Those Things We Never Said from Kindle Unlimited.
My links in this post are affiliate which means if you click through and purchase something I may earn some money at no extra cost to you. Thank you for supporting my blog.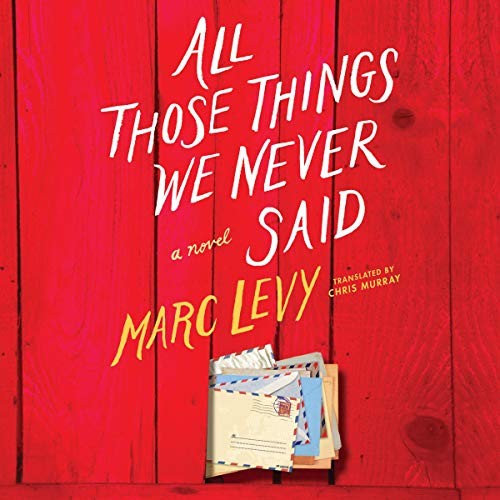 The Blurb from All Those Things We Never Said
Days before her wedding, Julia Walsh is blindsided twice: once by the sudden death of her estranged father…and again when he appears on her doorstep after his funeral, ready to make amends, right his past mistakes, and prevent her from making new ones.

Surprised, to say the least, Julia reluctantly agrees to turn what should have been her honeymoon into a spontaneous road trip with her father to make up for lost time. But when an astonishing secret is revealed about a past relationship, their trip becomes a whirlwind journey of rediscovery that takes them from Montreal to Paris to Berlin and back home again, where Julia learns that even the smallest gestures she might have taken for granted have the power to change her life forever.
My Review
I was intrigued by the blurb, how could her father appear on her doorstep after his funeral? Well, the answer was rather surprising and suspends belief. I'm all for a little sci-fi but it just didn't seem to fit well into this story.
The premise was lovely, a young women gets to make amends with her father, find out what her childhood was really like, have some long and caring conversations as well as some strops, travel to Canada, Paris and Germany. Meet up with old friends, break up with new and finally realise what is most important in life.
In reality, the story dragged, All Those Things We Never Said, could have been said a little more concisely, cutting the story down. If you like a story which examines all the emotions then you will probably enjoy this. I'm not saying it was bad but…
The main character, Julia, was just annoying, a spoilt brat. The Father was tiresome, meddling, and could have said all those things he needed to say in a letter. Some interesting parts of the story seemed rushed and gave way to lots of dreamy type monologues. The narrator was not to my liking either but that's a personal choice. I just sometimes think that the past is past and it's not believable that two so different characters could still be so much in love after the passing of nearly twenty years, or was it eighteen? I got confused as the author used both.
It hasn't put me off Marc Levy, but I'm glad I got this on my Kindle Unlimited rather than using an Audible credit.