It's not too late to hook up a quick Valentines gift. Here are a few great ideas for Valentines Crochet.
*This post may contain affiliate links
Valentines Crochet Blanket
Perfect for Valentines Day or even an Engagement or Wedding gift. This gorgeous blanket is made in Deramores Studio DK, one of my favourite wools to work with. The entire kit is only £22 or pattern for just £1
Loop Heart Cushion
Make one or the whole set of three of these wonderful romantic loop Heart Cushions.
Starting with just the pattern for £2, and the kits with cushion pad for £13.00, to all three cushions for £25.
Love Heart Bunting
Looking for something quick and easy but full of heart. How about this gorgeous red bunting.
Buy the pattern for just 50p or the kit for just £2.40. Simple but affective.
Cute Sweet Love Hearts
Who can resist these sweet little love hearts by EmKatCrochet.
Purchase the digital pattern for 50p, or buy the yarn and pattern for £11.99 and the Yarn, patttern, eyes, stuffing and keyrings for £21.99 There is even a video tutorial to help you along and you can make several little hearts.
Love Teddies Valentines Crochet
How very cute is this project. These teddies are full of love and would make a perfect gift.
You can get the details here: Pattern only £1, Pattern and yarn £5.99, Pattern, yarn, eyes and stuffing £11.50
Valentines Crochet Hearts
This pattern is for some cute, easy to crochet hearts that can be used for all sorts of decorations. You could even just stick one in your card! Here they are displayed amongst flowers for the complete romantic look.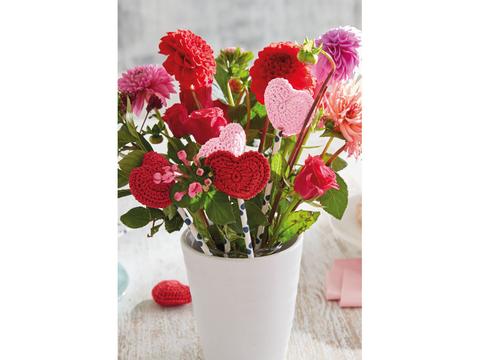 The pattern for these hearts is just £1.50, but you can buy it alongside 3 balls of Patons DK in Nougat, Red and Nectarine for £13.20. You can make lots of hearts.
Love Heart Valentines Crochet Cushions
These are so cute and would make a sweet gift for anyone. You can make just one or all three, it's up to you. Each one measures 41 cm (16 inches.)
The patterns and wool can be found here: The pattern is £1, Wool and stuffing for one cushion £6, and wool and stuffing for all three cushions £16.99
Two Peas in a Pod
I love this, what a really lovely little gift to make. Approximately 10- 11cm (4 inches)
These little peas are made in Deramores Studio DK and you can download the digital pattern for 50p or buy the entire kit including the eyes for £6.
I hope you like these Valentines Crochet gifts I've found for you. You can see more on the Deramores website. Remember, if you don't crochet yourself they also make lovely gifts for loved ones that do crochet.