Four years ago my Little Girl made a lovely Valentines Cake. She did it mostly by herself after receiving some cake decorations in the post. She was nine years old at the time and I think she did a really good job.
Valentines Cake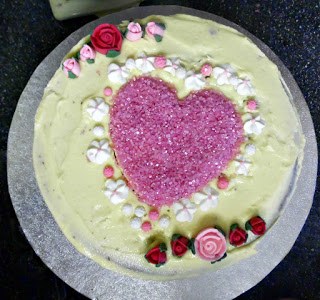 Valentines Cake Recipe
INGREDIENTS:
8oz self-raising flour
8oz unsalted butter
8oz caster sugar
4 eggs
1tbs cocoa powder
METHOD:
Preheat oven to 180C/gas mark 4
Put the butter and caster sugar in a bowl and mix until creamy
Add the eggs on at a time and beat into the mixture
Sift in the flour and cocoa powder and mix
Pour into an 8″ round tin which has been greased and lined with baking paper
Bake for 35-40 minutes or until a skewer comes out clean
Leave to cool and then decorate.
Decorating the Cake
INGREDIENTS:
4oz of soft unsalted butter
8oz icing sugar
1tsp vanilla extract
A selection of decorations,
we used sugar sprinkles, icing roses and white flowers from Cake Angels
METHOD:
Put the unsalted butter in a bowl
Sift in the icing sugar
add the vanilla extract and mix
cover the top and side of the cake with the buttercream
decorate as you wish
Videos of Valentines Cake
Here are a couple of videos we made of my girl both making the cake and then decorating it. She was at the age when she wanted to be a You Tuber, the career of choice of so many youngsters these days. She has grown out of that now and as a teen she shies away from the camera. Which I think is a shame as I feel she had a talent she could have developed. Not that most parents wish for a You Tube career for their youngsters!
This is part of my new cake series on this blog. You can find some of my other cakes here:
Or why not try Casa Costello's delicious Ginger Cake recipe
Maybe you are looking for a vegan cake recipe? Here is a great one from Mum's The Word, Vegan Coconut and chocolate cake recipe.