I recently posted about my Christmas cake over on my other blog, Raisiebay, and I had so many questions I decided to do a dedicated post here in my cake series.
This post contains affiliate links which if you click through and purchase something I may earn a little money. It will cost you no extra. Thank you in advance for your support.
Christmas Cake
So, what is a UK Christmas cake, Apparently, it's not heard of in other Countries? Well, I learned from my nan how to make one and it's a tradition that I hope continues in my family. I have already had my daughter help me make one (Even though she was not impressed with the alcohol content and of course refused to eat any.)
The cake is a rich, fruit cake infused with alcohol. The fruit is soaked in alcohol before cooking, then the cake is wrapped up securely in greaseproof paper and put in an air tight cake tin. Each week a tablespoon of alcohol is added. I prefer brandy, but you can use anything, whiskey, sherry, vodka even beer. The taste will be different but it all works. I pour the alcohol over the base of the cake, then a week later I turn the cake and pour it over the top, alternating each week until it's time to take it out. I generally make the cake six weeks before decorating so it gets six weeks of 'feeding.' The cake ends up moist but not wet and it's really delicious. Of course it's not suitable for children or drivers because of the alcohol content.
Christmas Cake Recipe
Here is my tried and tested recipe for Christmas cake.
INGREDIENTS
1lb mixed fruit and candy, you can buy bags from the supermarket expecially for cakes.
5tbs of brandy
225g plain flour
1/2 tsp of ground nutmeg
1/2 tsp allspice
225g unsalted butter
225g dark muscovado sugar
4 eggs
grated zest of 1 orange and 1 lemon
1 tbs of treacle
METHOD
Place the dried fruit in a bowl and cover with the brandy. Leave overnight to soak.
preheat the oven to 140C gas mark 1
cream the butter and sugar together until light and fluffy
beat the eggs and add them a little at a time, beating thouroughly after each addition
sieve flour, salt and spices into a mixing bowl
fold the flour and spice mix into the butter, sugar and eggs mix
add the soaked fruit and excess brandy
add the citrus zest and treacle
mix to combine all ingredients
pour into prepared pan
bake for 4 hours
The way you bake the cake is very important. I use a loose bottomed 8″ cake tin. The tin is lined with greaseproof paper and also greased. Then I wrap the cake tin in folded greaseproof paper and tie this on with string. This is for extra insulation so that the cake will cook slowly without drying out too much on the outside. If it starts browning too much on the top you can also put a circle of greaseproof paper on the top to protect it. The end result should be a slightly risen, moist, rich fruity cake that will make your house smell gorgeous.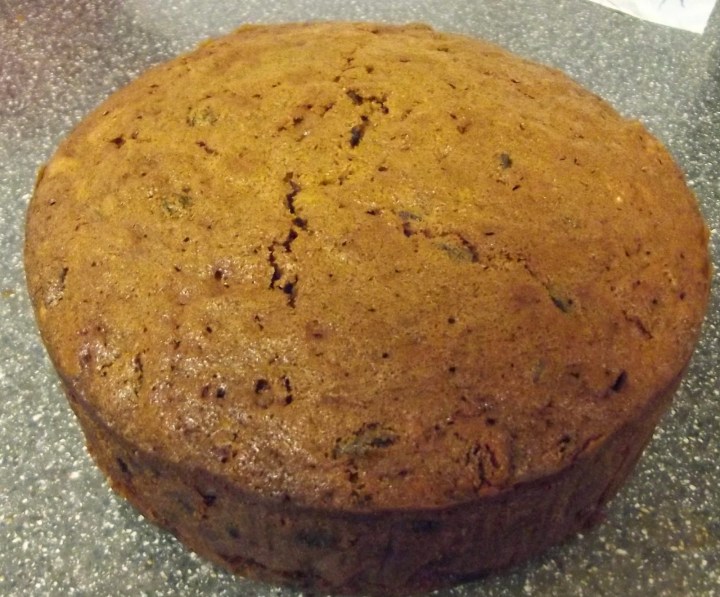 Decorating your Cake
A week before Christmas I bring my cake out for decorating. I like to use marzipan but some people are not a fan. It really helps to make your outside icing smoother though. If you'd like to learn how to marzipan a cake, Casa Costello gives step by step instructions.
To apply the marzipan I use a layer of marmalade or jam (jelly) which I've softened in the microwave for a few seconds. Or you can just use the preserve as the base for your icing.
My Grandmother (Nan) would cover the cake with Royal Icing which she'd make up with icing sugar and egg whites. She would spread this over the cake, make a few swirls on the top like snow and decorate with fake little Christmas trees and decorations. It would look very much like this.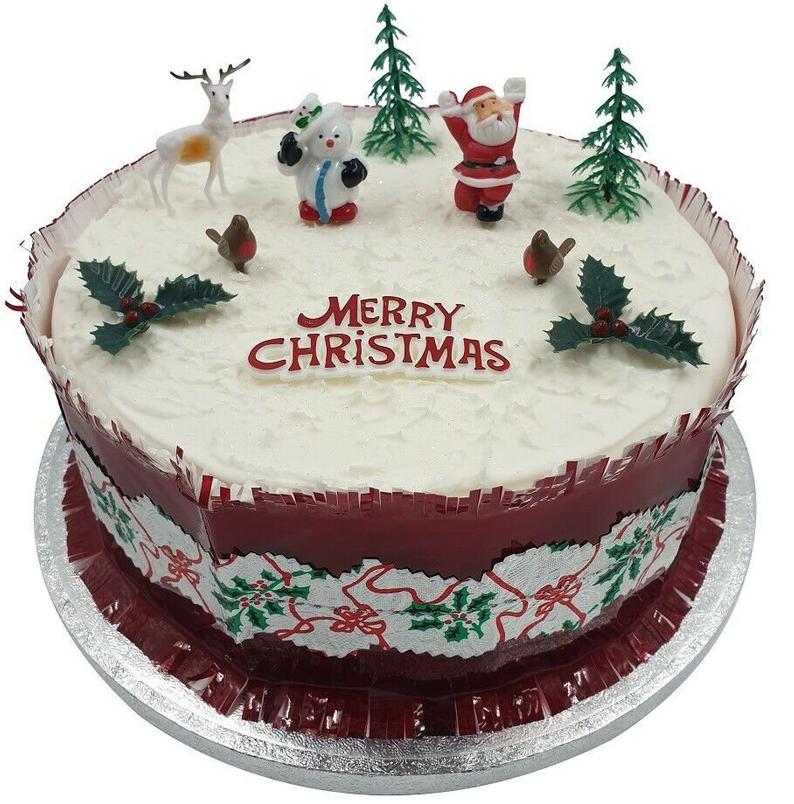 You can buy this complete cake decorating set from Etsy for just £6.99
I tend to use fondant icing these days and I've decorated many different cakes over the past few years, some by myself, some with the help of the kids. Here are a few I made earlier…