Trust Me, Sheryl Browne
This post contains affiliate links to both the audible version of Trust Me and an Amazon link. These will earn me a little money if you click through and purchase but will cost you no extra. Thank you for your support.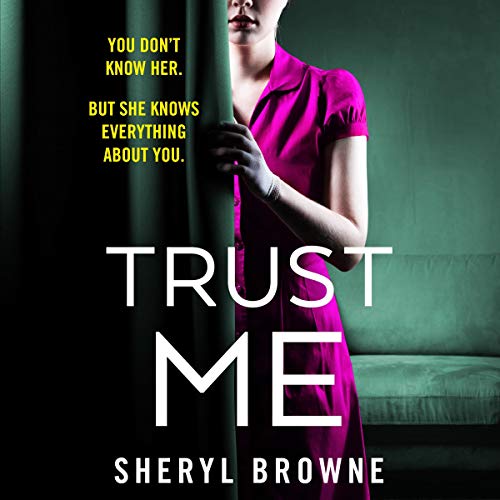 The Blurb
Emily and Jake are the perfect couple. Or so everyone says. But Emily just read a letter that has shattered her perfect world. Now she only has one thing on her mind. Which one of her friends is sleeping with her husband?

Emily watches Jake as he makes small talk with their children, still the perfect man she married years ago. But when the phone rings and he answers before quickly putting it down again, she sees the look on her husband's face – guilt. She knows the signs. After all, she's lying to him for years.

Working with Jake at the local doctor's surgery, Emily starts to listen at closed doors and read things she shouldn't, hoping to find the truth about her husband. Soon she learns that hers isn't the only family telling lies to each other. Is there anyone Emily can trust? And who is behind the letter to Jake?

When a second letter, revealing a wife's hidden pregnancy, is sent to the woman's husband, it has disastrous consequences. And as more angry letters revealing people's biggest secrets begin to appear, fingers point at Emily. After all, she's the one with access to everyone's private history, and she's the one with a score to settle. Emily says she didn't do it. But this isn't the first time Emily has lied.

What happens next will have you questioning everything…. You might have already decided that Emily is guilty, but as each twist is revealed, you'll begin to doubt everyone in this quiet little town. This is a psychological thriller that will keep you up all night!
My Review
I've always been a big fan of Sheryl Browne, I loved her romance novels and I thought she made the transition into thrillers really well. She has a wonderful way of bringing characters to life and making you feel as though you know them.
This story had plenty of twists and turns that kept you thinking. It was quite obvious what was going on but it was still interesting to read how it would all pan out and culminate. I do feel as though there was not so much darkness or tension as Sheryl has provided in previous thrillers. This book was more of a 'who is creating trouble,' rather than who the murderer is, or indeed what the greatest threat is. I did feel this was more like her former writing before she turned to the 'dark side.' I'd almost forgotten the story began with a murder.
There were some things I didn't work out, and some things I did but it was a complicated jigsaw with lots of pieces to fill in. All in all a satisfying read and another great book from Sheryl.
If you want to find out about some more fabulous audio books then pop along to Lovely Audio books for recommendations and a link up party.
20 Books for Christmas Reading Challenge.
I'm not doing as well as I'd hoped for this challenge. I did say I'd probably only manage ten books but I'm afraid it's only seven. I might get another one in before next week, I'm currently reading Richard Osman's Thursday Murder Club.
You can read my other book reviews here.
Pop over to Jo at Tea and Cake for the Soul for more book reviews.