I've found some delightful nautical themes for you today. I hope you enjoy them. There is something so nice about bringing a little of the sea side into your home.
Let's start with some fabulous cushions to crochet.
Rectangular Anchor Cushion Kit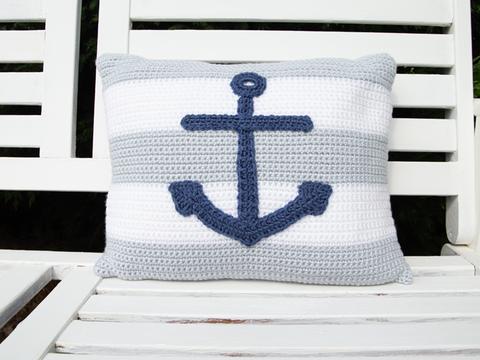 You can buy this kit from Deramores. The pattern alone costs just £1, The pattern and wool costs £9.75 and if you want the cushion pad as well then you can get the complete kit for £13.75. Size 40cm x 30 cm
Mini Anchor Cushion Kit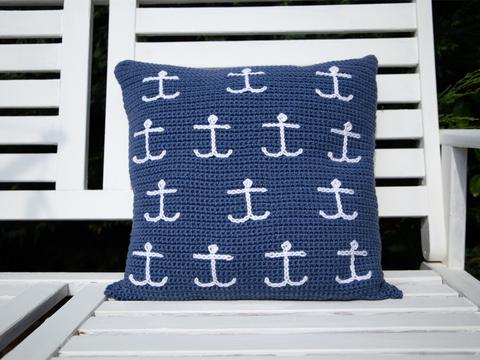 Maybe this mini anchor cushion suits you better. Again the pattern is only £1, the pattern and wool £9.75 and the full kit including cushion pad is £15.75. Size 40cm x 40cm
If you like them both then you can buy them together.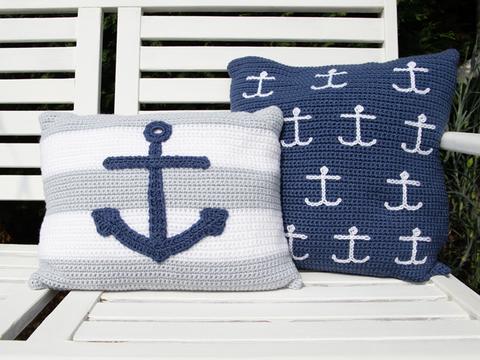 You can get the digital pattern for both for just £1, the pattern and wool for £18.50, and wool, pattern and cushion pads for £30. The wool used is Deramores Studio DK, I've used this wool several times before and it's lovely to work with.
Beach Hut Cushion
Who loves beach huts? Yeah, me too, they are so cute. And look how cute they look on this cushion.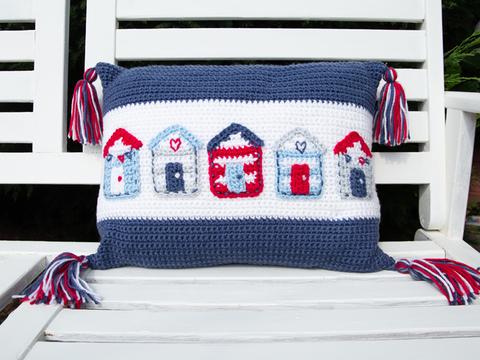 The pattern for this is £1.50, the wool and pattern £14.60 and the wool, pattern and cushion pad just £20. I love the colours and the tassells. The cushion is 40cm by 30cm and the wool, Deramores Studio DK.
Tote Bag with a Nautical Theme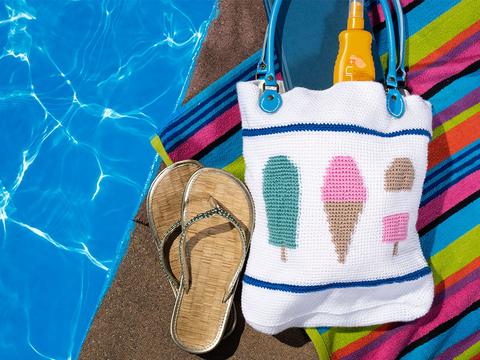 If cushions are not your thing, what about this gorgeous sunny tote bag. You can download the pattern for FREE! Or if you want the pattern and wool then it will cost you £11.82
Gentle Waves Blanket.
Or maybe you want to bring the sea home with this gorgeous gentle waves blanket.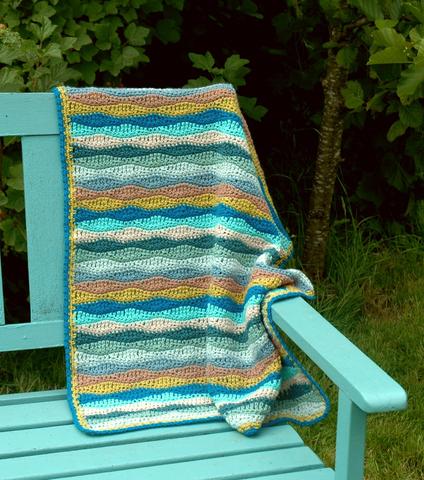 The small pack of pattern and wool costs £18.24 and measures 30 by 36 inches when finished. It takes 9 balls of wool.
Or you can buy the larger version for £31.10 it measures 48 by 72 inches when finished and includes 18 balls of wool.
I hope you have enjoyed my nautical crochet finds. I use affiliate links in my posts which means if you click and purchase something it won't cost you anything extra, but it may earn me a little money. So, thank you for your support.