The Suspect, by Fiona Barton is the third of her books that revolves around reporter Kate Waters. I have already reviewed The Widow and The Child. All three books are stand alone stories, but you do get to know some characters better as the stories progress.
I use affiliate links in my posts which means if you click through I and purchase you will receive a great new read and I will receive a little payment, at no extra cost to you. So thank you in advance.
The Suspect on Audible
I'm a huge fan of Audible, I love to listen to my stories while I crochet.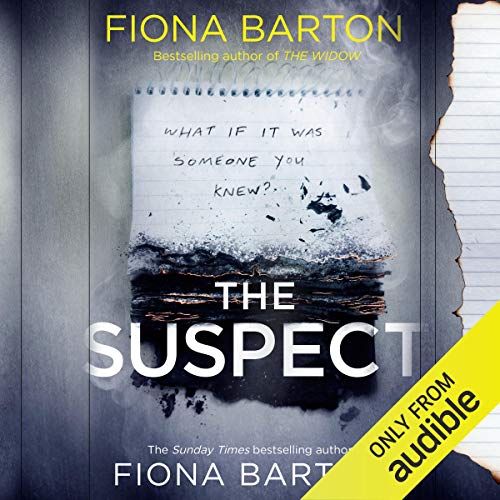 Paperback Edition
The Blurb
When two eighteen-year-old girls go missing on their gap year in Thailand, their families are thrust into the international spotlight: desperate, bereft and frantic with worry.

Journalist Kate Waters always does everything she can to be first to the story, first with the exclusive, first to discover the truth – and this time is no exception. But she can't help but think of her own son, who she hasn't seen in two years, since he left home to go travelling.

This time it's personal. And as the case of the missing girls unfolds, they will all find that even this far away, danger can lie closer to home than you might think . . .
My Review
I loved Fiona Barton's other two books I couldn't wait to get reading this one. I wasn't disappointed, it was really hard to put down. It did feel different to the other two stories though. I'm not sure if that was because Kate didn't have her usual role in the story. Or even that Bob Sparks was otherwise occupied with his wife's cancer. When you get used to character's behaving differently it kind of disrupts your expectations. So, I'm a little mixed on my feelings. I loved the book, but it just wasn't the Kate and Bob I've come to know through the other two stories.
It was typical Fiona Barton style though. You are presented with all you need to know to solve the case in the beginning. The clues are obvious. But the story of how they got to that conclusion is still so very intriguing. Mostly because of Fiona's amazing characterization. You really get to know the characters and feel invested in their parts of the story.
The Audible Version of The Suspect
Again, The audible version has gone for different voice actors for each character. I found this helped a lot in the last book, The Child, as the timelines were all over the place and everyone had such a different story. This book would have worked with just one narrator like The Widow. Yes, it's good to hear each character in their own voice, but some of the voices just didn't seem to fit. I get a bit picky over who I'm enjoying listening too and I know that's a personal thing.
I hope Fiona Barton continues to write about Kate Waters because I'd love to read another and find out what happens to Kate and Bob next.