The Child by Fiona Barton
The Child is Fiona Barton's second book featuring newspaper reporter Kate Waters. I recently read the first book, The Widow and was instantly drawn in by Fiona Barton's fabulous story telling.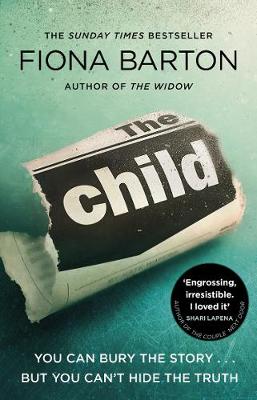 Before I begin my review I need to tell you that I will be using affiliate links throughout my post. This means that if you click through and make a purchase from them I may earn a little money. This will be at no extra cost to yourself, so thank you in advance for your support.
The Blurb
When a paragraph in an evening newspaper reveals a decades-old tragedy, most readers barely give it a glance.
But for three strangers it's impossible to ignore.
For one woman, it's a reminder of the worst thing that ever happened to her. For another, it reveals the dangerous possibility that her darkest secret is about to be discovered.
And for the third, a journalist, it's the first clue in a hunt to uncover the truth.
My Review on The Child.
I really enjoyed The Widow, I love the way Fiona Barton weaves you into her characters world. Even if you work out the answers, you still want to go on reading to see how it all unravels.
The child was slightly different I was kept guessing for much longer, but when the penny dropped it made me feel very emotional.
I listen to my books on Audible when possible. I love to be able to plug in and block out the world. It also means I can continue with my crochet, or even do the washing up or go to the toilet without having to stop listening. I'm a member of Audible so I can get a book a month for my £7.99 subscription. I already have Fiona Barton's third book in this season in my basket waiting for my next credit. You can get the book on Audible here.
The audible book has a different voice actor for each of the characters which helps you keep track of what is happening. I did find the jumping of timelines a little more difficult in the previous book with the same actor reading all the parts. Some stories work better when there is more than one voice, it does make it more like listening to a drama than reading a book though.
As for the story, I found it really gripping. I found it hard to stop listening. I connected with the characters for who they were. It's hard not to like Kate even knowing she's a journalist and poking around in other's lives, she is good at coming up with answers that even the police don't see. She has no shame about the way she worms herself into lives, but she never causes harm.
The main character in this story appears to be Emma, who is the only one who has her part in first in first person. This is her story, what happened to her. The other characters seem to be the main focus, but we know it's all about Emma really and that it's only Kate who can bring the truth to light.
I have to admit it brought a lump to my throat a couple of times.
There are some touchy subjects involved including child abuse and baby death, so it won't be a good read for some. But for those who love a good page turning 'who dunnit' type book, then you'll love this.
I'm adding my review to The Monthly Book Blogger Linky over on Lovely Audio Books here.
If you like reviewing books then please feel free to join in my monthly linky which starts on the first of the month and runs to the end and you can link up as much as you like so long as it's book related. You can find the linky by clicking here or the image below.