Way back in October (Which I swear was a week ago) I told you about a Christmas CAL or Crochet Along that I was doing. I thought I'd give you a little catch up.
How Did I do?
Well, I could have done better, but I'm still happy. The baubles were first and I completed them in time. Here's my little Robin and Reindeer baubles to go on our tree this year.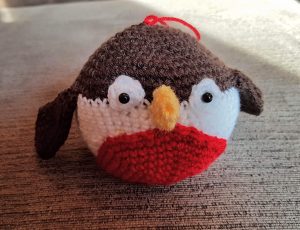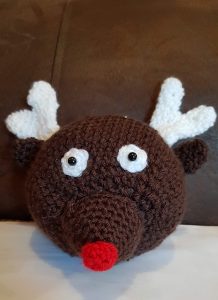 Next up I started on the coaster and the table mats. I managed two mats and all the coasters, but I've yet to finish the edging and lettering. I got a little distracted by crocheting this for my niece's little boy.
It was so much fun and easy to make. I think I may make some more in different colours for my Etsy shop when I open it.
I have now started on my Christmas pillow because I'd like to get that done to go with our decorations. I've done the back, now it's just the front to complete. then I'll finish off the coasters. I'm not sure I will have time to finish the Christmas Stocking.
Christmas Crochet Gifts
My daughter has been asking me what I would like for Christmas and I really couldn't think of anything other than chocolate. But then I thought of how much I enjoy my crochet so I asked her to take a look at the Deramores site and pick a crochet pack. You can buy a pattern and all the wool you need to make it. I can't wait to see what she's bought for me.
If you have lots of spare wool and not so much cash, then you can still check out the site for some really fabulous free patterns for crocheting or knitting.
Disclosure: this post contains affiliate links.