As you may, or may not know, I love my crochet. I have a stash that is way too big already but when I heard that Deramores were doing a Christmas CAL, how could I not get involved. The patterns are devised by Deramores in collaboration with Zoë Potrac and don't you think they are super Christmassy?
You can buy what you need right now and the Christmas CAL starts on October 22nd. Each Tuesday for four weeks a pattern with be available for free on the special Facebook group. Will you be joining me? Deramores have even been kind enough to offer a 12% off code which is available until the end of the year, just use NOW12 at the checkout.
What Will We Be Making in the Christmas CAL?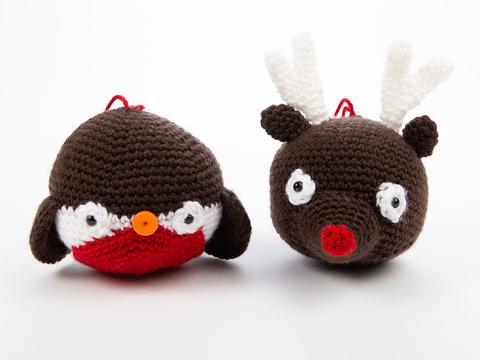 These cute reindeer and robin baubles will look great on the tree. They are 9cm in diameter and like all the patterns in the CAL (Crochet Along) they are suitable for beginners. Use your own eyes and stuffing or buy a kit including everything you need.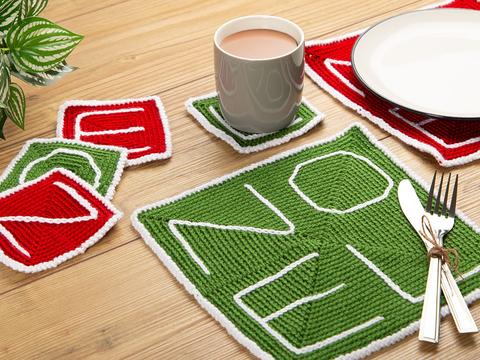 Need some coasters and placemats for your Christmas table, or how about making these as a cool Christmas gift? Nothing says Christmas more than red and green..and the word Noel! The coasters are 10cm by 10cm and the Placemats are 25cm by 25cm.
This Christmas cushion cover is my favourite and I'll definitely be making more than one of these. It measures 40cm by 40cm and if you buy the full pack you'll get the cushion to go with it.
Finally, there is the Christmas Stocking and I'm sorry I don't have an individual photo of that just yet. The lovely red, green and white stocking is 50cm tall and 25 cm wide.
Deramores CAL
All these lovely goodies are crocheted using Deramores Studio DK and you can get the wool separately or buy the packs, one with just the wool and the other with the wool, cushion, toy stuffing and eyes.
The wool pack is £16.74 and the wool pack with the cushion, stuffing and eyes is £24.60 and you can buy them from Deramores here. Don't forget your discount code NOW12
So what do you think? Will you be joining me? I hope to see you on the Facebook group.
If you prefer to knit than crochet, or indeed if you are lucky enough to do both, then Deramores also have a Christmas Knit along which you can find here.