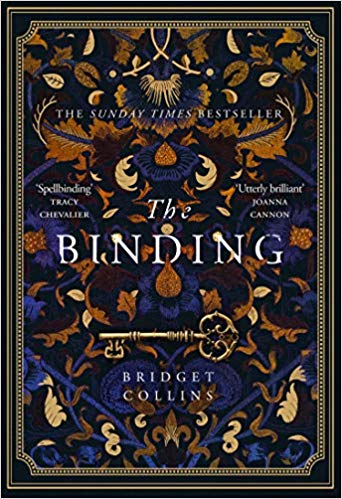 Hardcover: 448 pages
Publisher: The Borough Press (10 Jan. 2019)
Language: English
ISBN-10: 0008272115
ISBN-13: 978-0008272111
Product Dimensions: 15.9 x 3.9 x 22.7 cm
You can buy this gorgeous hardback copy of the Binding on Amazon for just £8.53 Also available in paperback, kindle edition and Audible My links are affiliate links which will cost you no more to click through and purchase but may earn me some pennies.
I listened to The Binding on Audible narrated by Karl Prekopp.
The Blurb for The Binding
Imagine you could erase your grief.
Imagine you could forget your pain.
Imagine you could hide a secret.
Forever.

Emmett Farmer is working in the fields when a letter arrives summoning him to begin an apprenticeship. He will work for a Bookbinder, a vocation that arouses fear, superstition and prejudice – but one neither he nor his parents can afford to refuse.

He will learn to hand-craft beautiful volumes, and within each he will capture something unique and extraordinary: a memory. If there's something you want to forget, he can help. If there's something you need to erase, he can assist. Your past will be stored safely in a book and you will never remember your secret, however terrible.

In a vault under his mentor's workshop, row upon row of books – and memories – are meticulously stored and recorded.

Then one day Emmett makes an astonishing discovery: one of them has his name on it.

THE BINDING is an unforgettable, magical novel: a boundary-defying love story and a unique literary event.
My Verdict on The Binding
As I already stated, I listened to this book on Audible, but I'm a little envious of the beautiful cover and I may even be tempted to buy a hardback version. It's quite a long book a whole fifteen and a half hours on Audible. But, I couldn't stop listening. The narrator was gentle and lent himself perfectly to the story, but I have to admit, he did also send me to sleep a couple of times and I had to rewind.
The story itself is like nothing I've read before, it's a world that is so like this one but more historical, but it's a world were books are more like drugs than reading material. There are novels which are made up stories, but most books are peoples memories, stored away in pages. Some sell their memories for others to read. Others pay to have their memories removed. But once those memories are bound into books they no longer belong to the original owner.
The book is written in three parts. The first is a little strange and it's hard to figure out if you are reading a normal story or some sci-fi novel. Nothing is made perfectly clear, but it's understandable because the main character has already been to a book binder and had his memories erased. This, in turn, showed that he had the talent to bind himself and was taken on as an apprentice.
The Second part fills in all the missing pieces as the main character finds his book and remembers everything. But as soon as this part of the story is told we are taken back to the place where his book was found and the story is taken over by someone else. Then the two characters work together to find out the truth.
It's a really interesting concept and shows what lengths people will go to to erase their memoires. It also shows how other people can be manipulated by having their memories erased. It also touches on social differences where the rich pay for memory erasal and for books of other's memories, and where the poor sell their memories for cash.
It certainly has a philosopical edge as to how much of real life is put into books and how much people crave to read about a different life. It made me think of Jostien Gaarder's 'Sophie's World.'
The main theme of this story though, is not the philosophical stanse, but a coming of age love story. It won't be to everyone's taste, it's very unsual and the love story is not even conventional. Personally though, I enjoyed it thoroughly and would definitely like that hardbound copy for my 'pretty' book collection.