Closer was another K.L. Slater book that I was able to read for free on Audible. I really enjoyed The Widow so I thought I would give this one a go. It did sound intriguing from the Blurb.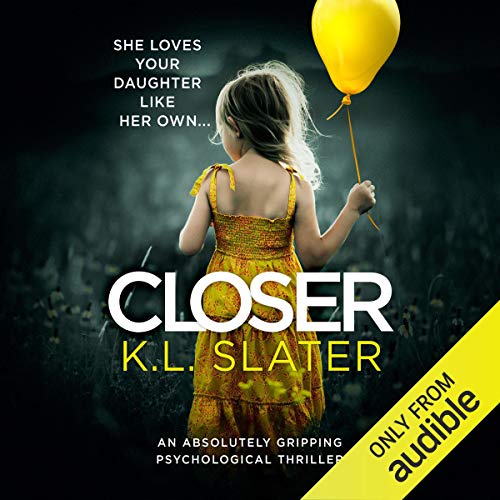 The Blurb for Closer
I know my daughter better than I know myself, and if there's one thing I know for sure at this moment it's that Maisie is not okay.
My ex-husband, Shaun, and I are still friends. We would do anything for our beautiful little girl, Maisie. But now Shaun has moved in with Joanne, and suddenly Maisie has a brand-new family. And there's something not quite right about it….
I know Joanne isn't everything she says she is. Yet no-one will listen. I need to discover what she's hiding. Because if I don't, my daughter will be in terrible danger.
The most gripping psychological thriller you'll listen to this year from the Kindle top five best-selling author K. L. Slater. If you love The Girl on the Train or Gone Girl, you'll be absolutely hooked.
My Review of Closer
This wasn't one of my favourite books from K.L. Slater. She usually gives you lots of twists and turns and things that keep your brain active. However, I found that most of this book read like a romantic novel where the marriage goes wrong and the daughter isn't coping too well. I was not moved by any of the little things that seemed suspicious, or the little snippets from the past. I was just not gripped by suspense.
I did continue to read the story as I wanted to find out the twist at the end. The chapters are short and many. The last two chapters are the most exciting and I have to admit I was shocked, surprised and a little chilled….but it took a long time to get there.
The reviews are good, so maybe it was just me that didn't get a thrill from this book?