Recently published on Audible is Harlan Coben, The Woods and I couldn't resist. I have already read The Stranger which I enjoyed and I loved watching Stay Close on Netflix. Harlan Coben is a very popular author with stories full of twists and turns. But I do find him quite predictable. That's not a real complaint though, I'd still recommend him and I'd probably read more. I'd love to watch more of his Netflix series, if only there were more hours in the day (in particular, when I had control of the remote control!)
I digress, let's get on with my topic of review. I listened to The Woods on Audible and my post may contain affliliate links.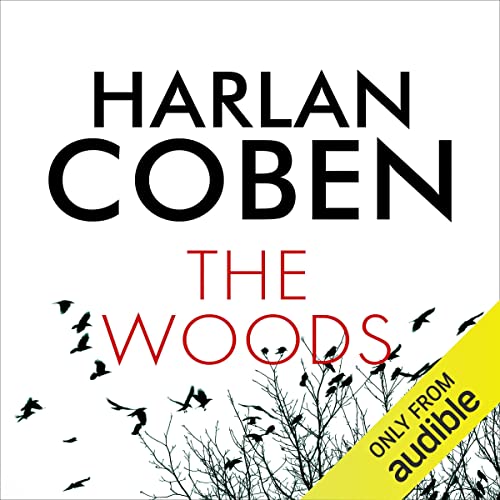 The Blurb
Twenty years ago at summer camp, Paul Copeland's sister died in the woods, the alleged victim of a serial killer. Her body was never found. Now, Paul is the prosecutor for Essex
Twenty years ago, four teenagers disappeared in the woods at a summercamp. Now, two decades later, everything is changing…
Paul Copeland's sister went missing 20 years ago. Now raising a daughter alone, Cope balances family life with a career as a prosecutor. But when a homicide victim is found with evidence linking him to Cope, the well-buried secrets of the past are threatening everything.
Is this body one of the campers who disappeared with his sister? Could his sister be alive…? Confronting his past, Cope must decide what is better left hidden in the dark and what truths can be brought to light…
My Review of The Woods by Harlan Coben
The story is fast paced and draws you in straight away. Is Cope's sister still alive? Will, they still find bodies in the woods? Why is the body that turns up supposedly one of the teens that was supposed to have died 20 years ago? So many questions, will Cope get to the bottom of it all and find out the truth?
I like how Harlan Coben keeps you thinking and throws different threads into the story. The story as so much going on, but even though it seems confusing, it's never over-complicated. The characters are all well thought out and have specific personalities that move the story along.
The audio book was read by an American accented narrator but he was really good at adapting to all the different characters. It's always good to listen to a preview of an audio book first though, there is nothing worse than a narrator you don't like listening too.
If you wish to read instead you can get the paperback fairly cheaply on Amazon.