I am fast becoming a fan of Stacey Halls. There was a time where I wouldn't consider reading an historical novel, but Stacey Halls has me enthralled every time. Mrs England, is the latest offering and once again a very enjoyable read.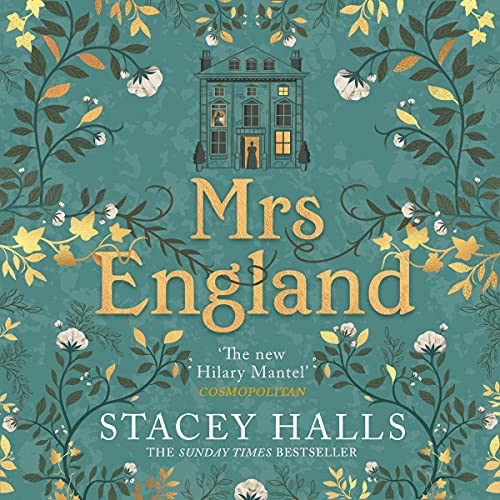 The Blurb
'Something's not right here.'
I was aware of Mr Booth's eyes on me, and he seemed to hold his breath. 'What do you mean?'
'In the house. With the family.'

West Yorkshire, 1904. When newly graduated nurse Ruby May takes a position looking after the children of Charles and Lilian England, a wealthy couple from a powerful dynasty of mill owners, she hopes it will be the fresh start she needs. But as she adapts to life at the isolated Hardcastle House, it becomes clear there's something not quite right about the beautiful, mysterious Mrs England.

Distant and withdrawn, Lilian shows little interest in her children or charming husband, and is far from the 'angel of the house' Ruby was expecting. As the warm, vivacious Charles welcomes Ruby into the family, a series of strange events forces her to question everything she thought she knew. Ostracised by the servants and feeling increasingly uneasy, Ruby must face her demons in order to prevent history from repeating itself. After all, there's no such thing as the perfect family – and she should know.

Simmering with slow-burning menace, Mrs England is a portrait of an Edwardian marriage, weaving an enthralling story of men and women, power and control, courage, truth and the very darkest deception. Set against the atmospheric West Yorkshire landscape, Stacey Halls' third novel proves her one of the most exciting and compelling new storytellers of our times.
My Review of Mrs England
I listened to Mrs England on Audible, using my monthly credit.
I'd always recommend listening to a sample first. This book is narrated by Imogen Wilde with a board Birmingham accent. For me, being a Brummie, it was fine, but others might find it a little difficult. I have trouble listening to certain accents.
That doesn't take anything away from the brilliant story telling. Mrs England seemed a little slower to actually get started than Stacey Halls previous novels, but it still drew me in, savouring every character and every scene. From the streets of London to Basall Heath in Birmingham, right out to the West Yorkshire landscape, you feel like you are there with your characters.
Little clues of what happened and what is happening are scattered through out, so although there are some twists, nothing comes as a complete suprise. (Well, there was one thing I didn't guess.) The story is full of intrigue without the massive drama. You have to wait a long time for a dramatic event, but it really doesn't matter, just get taken along for the ride and enjoy.
I love that Stacey Halls takes an event from history and turns it into a novel. What happened to Ruby May came from a factual story that she'd read. But all the rest is her imagination.
I will be looking forward to more from Stacey Halls.
Read my review of The Foundling by Stacey Halls
Read my review of The Familiars by Stacey Halls