I was asked to review some hand soap and I was really impressed with Choose Well and their lovely ethical hand soaps with a purpose.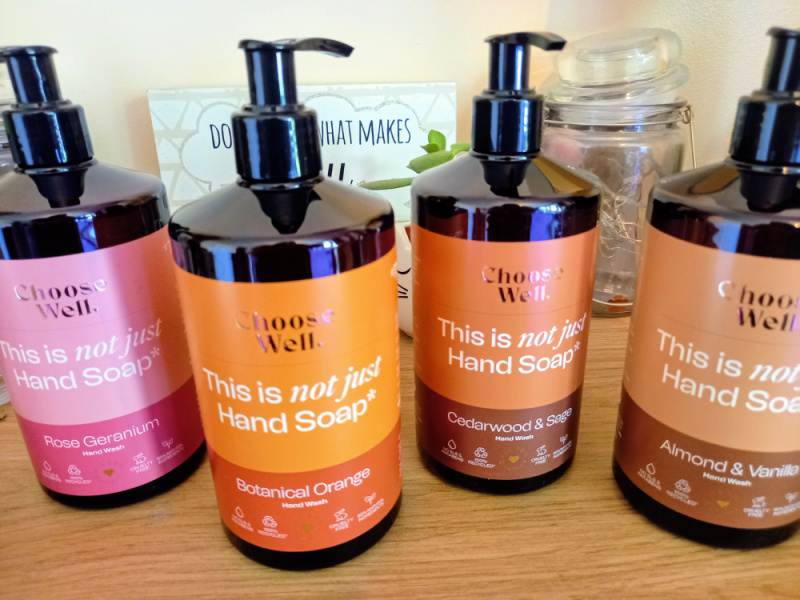 There's power and purpose in every purchase
The large 500 ml bottles are all 100% recyclable and you can also buy refill packets which work out at better value and have even less waste. You can even choose to buy a glass bottle to use with the refills.
The hand soap is not tested on animals and contains 95% natural ingredients. They are tested by dermatologists and are suitable for vegetarians and vegans.
Each purchase allows you to opt where some of the profit from sales goes towards charitable ventures: such as providing water and sanitation for countries that need help. Or you can choose to help the homeless and help keep a young person off the street. The other charity is Trees. Planting trees can regenerate forests and help the global climate.
My review of the Hand Soap
I love that every product bought helps causes that I care about. I also like that the dispensers are completely recyclable. I switched to bar soap a couple of years ago, but my family were so pleased to have bottles in the bathroom again. I though bar soap was a better choice at the time but I think Choose Well may have changed my mind.
We love the Choose Well hand soap, it leaves our hands feeling soft and clean and the bathroom smelling delightful. Our favourite so far is the Rose Geranium, but we like all of them. We have the Cedarwood and Sage in the upstairs bathroom and that's wonderful too.
Just a little squirt from the bottle is enough for a complete hand wash and a sink full of bubbles. I suffer from dermatitis and I'm pleased to report that my hands have been left feeling soft and smelling lovely.
A 500ml bottle of hand wash costs £7.99, which is a little expensive but it's worth it. You are also supporting a good cause and the wash lasts for ages. It's also a truly luxurious wash and I'm definitely considering refills when my bottles empty.
The refills cost £12 and you get a whole litre of hand wash. The exclusive glass dispenser costs £9.99 for a 300ml bottle and £11.99 for a 500ml bottle. You can also refill the plastic bottles if you want to give them more life before recycling.
At the moment Choose Well have four fragrances for their hand soap, Rose Geranium, Almond and Vanilla, Botanical Orange and Cedarwood and Sage.
You can also buy kits, like the refill starter kit with a 500ml dispenser bottle and a litre refill of the soap of your choice The price for this is £23.99. or You can buy two bottles of soap for £14 or 4 four £28
You can follow Choose Well on Instagram. On Twitter and Facebook
It all started with a simple idea. What if soap could be more than just soap? What if liquid hand wash could help save lives and change lives for the better? What if money from the sale of an everyday item could be put towards good causes? What if soap could help both people and the planet?