Here is a review of my latest Audible listen, the Familiars by Stacey Halls.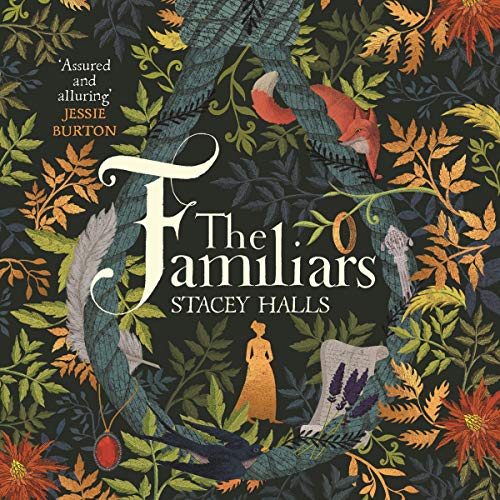 This post may contain affiliate links.
The Familiars – The Blurb
To save her child, she will trust a stranger. To protect a secret, she must risk her life….Fleetwood Shuttleworth is 17 years old, married and pregnant for the fourth time. But as the mistress at Gawthorpe Hall, she still has no living child, and her husband, Richard, is anxious for an heir.

When Fleetwood finds a letter she isn't supposed to read from the doctor who delivered her third stillbirth, she is dealt the crushing blow that she will not survive another pregnancy.

Then she crosses paths by chance with Alice Gray, a young midwife. Alice promises to help her give birth to a healthy baby and to prove the physician wrong. As Alice is drawn into the witchcraft accusations that are sweeping the North-West, Fleetwood risks everything by trying to help her.

But is there more to Alice than meets the eye? Soon the two women's lives will become inextricably bound together as the legendary trial at Lancaster approaches, and Fleetwood's stomach continues to grow. Time is running out, and both their lives are at stake.

Only they know the truth. Only they can save each other.
My Review
I listened to this book on Audible and was immediately drawn in. I'm not usually drawn to historical novels but I do find stories of witchcraft interesting. It's hard to believe that such simple things that women did at those times were perceived as witchcraft, and that just simply being in the wrong place at the wrong time could get you into serious trouble.
I loved the main character, Fleetwood, as a young women she was strong and wilful. The author based her on a real person but knew nothing about her personality. I think the personality she created is what kept the story flowing.
Mixed with mystery, culture, fear and adventure, this makes for a really good read. I enjoyed every moment and the narrator took me straight back to the time and place. Reading other critics of the audible version it seems that some didn't like the narrator, that's why I think it's a good idea to listen to the sample first. I found the narration perfectly enjoyable.
There is not much witchcraft in this book, so if you are looking for magic spells or evil doings then this is not the right story for you. What I enjoyed is a story about a strong young woman who stood up for herself and her friend. Whether it is believable or not doesn't detract from the story for me. I doubt very much that during that time, that any women would have any say against those determined to be rid of witches.
I would definitely read more of Stacey Hills, her story telling is engaging.
You can find the book in my bookshop
Or on Amazon Kindle for £1.90 or hardback for £27
Read more of my book reviews here.