Description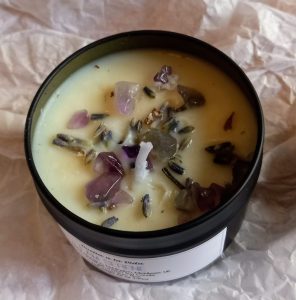 I AM SERENE Amethyst Vegan Soy Candle is the ultimate candle to wind down with, settle your mind, switch off and release any worries your shoulders may be carrying.
burn time: 41 hours
This Amethyst candle is for anyone wanting some time out, to quieten the mind, bring stillness in this moment, feeling totally refreshed and invigorated.
SCENT:
Top notes: Eucalyptus, Blossom
Base note: Cut grass
Extremely beneficial for anyone feeling overwhelmed, overworked or overstressed and for anyone who suffers from stress, anxiety or depression.
Also Ideal for meditation, yoga or any practice connecting you with the universe and the ever-giving energy we all receive from.
Dressed and loaded with:
AMETHYST gemstones: cleansing-protection- inspiration
Enhances intuition, spirituality and meditation. Extremely protective, calms the mind and spirit.
DRIED LAVENDER: cleansing properties – strong floral scent that is relaxing and calming.
Candles are a firm favourite and these would make a wonderful little gift or keep for yourself. They smell gorgeous and have cute little crystals which will be left behind once the candle has finished. The wicks are cotton and the candles are vegan friendly. They are Glossy waterproof white vinyl 100 gsm.
cotton wick candle
5cm diameter
41 hours burn time
reusable container
I am I am Serene Crystal candle sticker on front
I am really pleased to bring you my new series of candles from Vuelta a la Vida, a Uk company.
At Vuelta a la Vida, we believe our mental wellbeing and how you feel about yourself is key to holistic wellness and self-care. That is why our candles not only help you relax with our beautiful fragrance oil blends, but come with 1 affirmation card to stimulate thoughts of self-love, empowerment and inner peace.