Description
LSW Mind Notes is a six-month undated daily wellbeing journal.
This journal is designed to help you pinpoint thought and behaviour patterns, encourage the practice of gratitude and use weekly exercises to increase your sense of positive wellbeing for a more fulfilled life.
Using different tools and techniques this journal will help you to rediscover what makes you tick and encourage you to do more of what makes you happy. Bring your focus back to you with the ultimate self gift for your mental wellbeing.
For those who use LSW Mind Cards, each day there is a space to write your thoughts and findings from your chosen card of the day.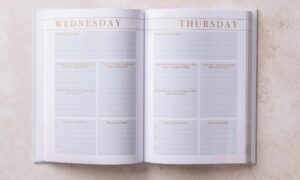 Each week you will find
Monday – Friday prompts with weekly review pages
Inspirational quotes
Colouring pages
Motivational exercises
Probing questions
Coaching techniques
Mindfulness techniques
Breathing exercises
Positive affirmations
Specification
Printed in the UK
224 pages
Six-month undated
White 100 gsm paper
Dimensions 8.3″ L x 5.8″ W x 0.7″ D
If sold out you can also purchase the journal direct from LSW Mind Cards I am affiliated with this company and also have my own collection of products to sell.
Thank you for supporting my small business. Please feel free to contact me with any questions.
You can read all about my story and why I decided to open up my shop on my blog post here.
Please Note: Other payment options other than Paypal are available on checkout. you can choose to pay by credit/debit card or BACS