Description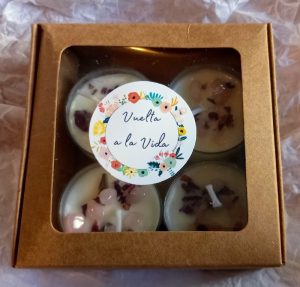 Our set I AM DIVINE of 4 crystal tea light scented candles has been lovingly created to help you remember the importance of self-love.

Self-love: Rose Quartz and Rose petals
Top notes: plum, cassis and rich dark fruits
Middle notes: cinnamon, rose and jasmine
Base notes:sweet vanilla and patchouli
Our tealights are meant to fit in a Tealight holder or votive jar.
When your candle comes to an end, your crystal doesn't. Its energy will continue so keep it safe 🙂
Vegan Friendly + Cruelty-Free
Paraffin and Phthalate free
Presented in a box, perfect for gifting: Fully Recyclable packaging
I am really pleased to bring you my new series of candles from Vuelta a la Vida, a Uk company.
At Vuelta a la Vida, we believe our mental wellbeing and how you feel about yourself is key to holistic wellness and self-care. That is why our candles not only help you relax with our beautiful fragrance oil blends, but come with 1 affirmation card to stimulate thoughts of self-love, empowerment and inner peace.