Welcome to Book worms Monthly September. I've been going through a big upheaval in my life and while some might find reading a comforting way of forgetting the real world, I have had difficulty in concentrating. I lost my reading mojo a little and again I've only read a couple of books this month. I think it may be coming back though, because I'm currently reading 'None of This is True' by Lisa Jewell and I'm so hooked!
Reading is my passion and I love to write about what I've read. I'm a real book worm and I have been since the day I could read. I decided to start this linky so that other book worms could Share. I'm starting monthly for now, so you have a whole month to link up your posts. You can link up to four posts, so that's one a week. Or if you like you can link up some of your older posts.
Let's share what we read and give other's ideas what to read next. Tell me your reviews, you book reading lists, your author interviews, kids book favourites, Young Adult books, and even posts about your favourite authors. Anything book related is allowed and I can't wait to read them all. I want to find all the book worms out there.
Here is last months linky to give you some idea of what book worms monthly is about. I'm trying to reach out to all the book worms out there to come and join me with their posts monthly. What books will you be reading this month?
Join Us for Book Worms Monthly September

Bookworms Monthly will be posted every four weeks, and you can join in at any time. I will share anyone who links over on my Social Media sites, Twitter, Facebook, Pinterest, Instagram. I'll also come along and read and comment on your post. Please do share this link up with your friends.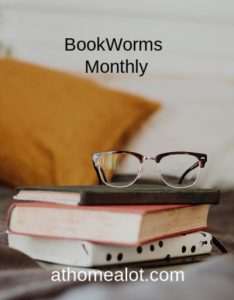 Link up your Book Worms Monthly Sepetember book posts below.
p.s. I've been having some problems with my linky's so if you find it not working, please come back again as I will constantly keep an eye on it and get it up again when I can.