Teens. They're a handful. Even the better behaved teens are still going to bring a few issues, confrontations and grievances to the table. This is inevitable. Teen years are packed with hormones, life lessons and a battle for independence while still being entirely dependent on your parents for housing and financial support. One point of contention between many parents and their teenage kids? Bedrooms and their tidiness. Trying to get your teen to keep their space neat and tidy is a struggle as old as time. So what can you do to lay this heads off to rest and to encourage your teen to keep on top of their space? Here are a few suggestions that you might find helpful!
Declutter
First, work with your teen to declutter their room. Teen rooms tend to be more cluttered than most, as they still house belongings that they have grown out of or simply no longer want or need from their childhood. Decluttering can separate the items they want to keep from those that can be removed from the space. It is a process that will clear space and reduce mess. Of course, you need your teen to take charge of this, as you don't want to throw away anything that is important or has sentimental value, but you can make an activity out of it. Once you have a selection of items that are no longer necessary, sell them, donate them to charity or recycle them.
Make the Most of Space
Of course, if you're working with a small space, it can still feel cluttered, even with non essential items removed. This is where you need to take steps to make the most of the space. Often, there are furniture fixes that can help to lift the mattress above the ground and allow you to make use of the space beneath for storage on shelves and more. You may find that mid sleeper beds achieve this well. Another option is beds with built in underbed storage, such as divans where the mattress can lift up to provide storage room in the base. Other clever design solutions, such as desks which can fold back flat against the wall are useful, as they provide study space and can be packed away when out of use.
Incentives
You may want to incentivise positive behaviour. Pocket money or allowances based off of sticking to chores and tasks could help. Of course, you need to be fair and consistent for this to work. Make sure that the incentive is one that you can commit to long term if your teen sticks to their part of the bargain. The rules and conditions should be clear from the outset to prevent butting heads when it comes to time for you to pay your side of the bargain.
Sure, this may not work for every teen, but hopefully, at least one of the tips above will prove handy and help you to get back on top of your teen's space within your home.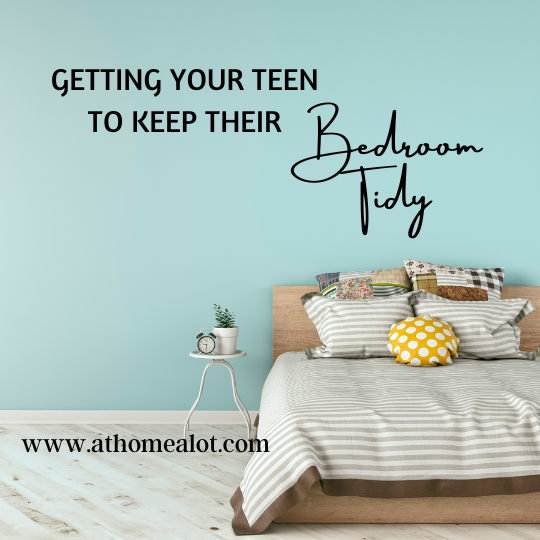 This is a collaborative post, read my privacy policy