I chose this book, Still Life, after reading Sarah's review. I'm so glad I did because I really enjoyed it.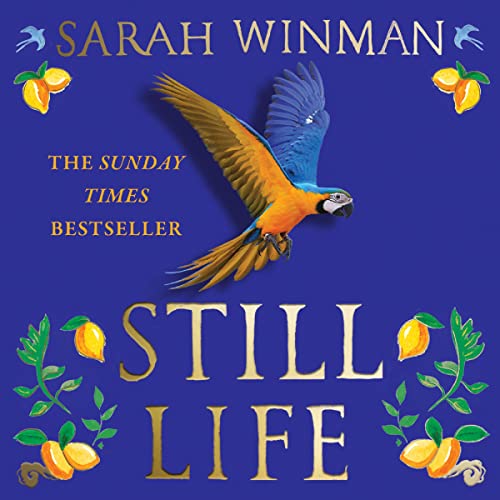 The Blurb
From the author of When God was a Rabbit and Tin Man, Still Life is a big-hearted story of the families we forge and the friendships that make us.
1944, Italy. As bombs fall around them, two strangers meet in the ruined wine cellar of a Tuscan villa and share an extraordinary evening.
Ulysses Temper is a young British soldier, Evelyn Skinner a 64-year-old art historian living life on her own terms. She has come to salvage paintings from the wreckage of war and relive memories of her youth when her heart was stolen by an Italian maid in a particular room with a view. Ulysses's chance encounter with Evelyn will transform his life – and all those who love him back home in London – forever.
My Review of Still Life
The book is fairly chilled and laid back story of family bonds throughout the years. It's quite slow going at times but I love the way it all comes together in the end.
It seems like Evelyn Skinner is going to live forever, what an interesting life she has and being a Lesbian in those times couldn't have been easier. She meets the other main character Ulysses Temper during World War II in Florence Italy and they form a bond that never really leaves them although you are left wondering if they will ever actually meet again.
I did get a little confused at first as there are a lot of characters in this book and it was hard to distinguish who was who, but you soon became to know and love them, or maybe not, some were not so savoury.
The chapters were very long and I got a bit lost at times. During the second part I had to go back to the first to find out who a particular character was. I can't really say much without giving away a big part of the plot but Ulysses did something kind and was re-payed later on. So, do pay attention to all that happens and try and remember the names.
What I really loved about the book was the diversity of the characters and how they all interacted with each other. Some where funny, some angry, some quite normal and one a parrot! I also loved the beautiful description of Florence. I recently read A Room With a View and I liked how this book gives a nod to the story, you could almost believe that the characters where the ones that E.M. Forster met and based his book on.
A really good summertime read if you are looking for something to relax with in the sun. The audiobook is narrated by the author so no-one better to understand the characters and their personalities.
This post may contain affiliate links.
Click the button to join in with our monthly book club where you can read about or link up any bookish posts.