We all prefer A Room with a View don't we? The main character in this 1908 novel is travelling with her aunt when they swap their hotel rooms with two men in exchange for a better view. And so begins a love story.
Despite A Room with a View by E.M. Forster being a classic, I have never read it before. Neither have I seen the 1985 movie with Helena Bonham Carter and Julian Sands. But it's on today, February 14th 2021 at 5pm on Film4 or 6pm at Film4+ I have it on record in case I don't get to watch it.
A Room With a View on Audible
I listened to A room with a view on Audible, It showed up in one of their daily specials for just £1 and I was looking for something new.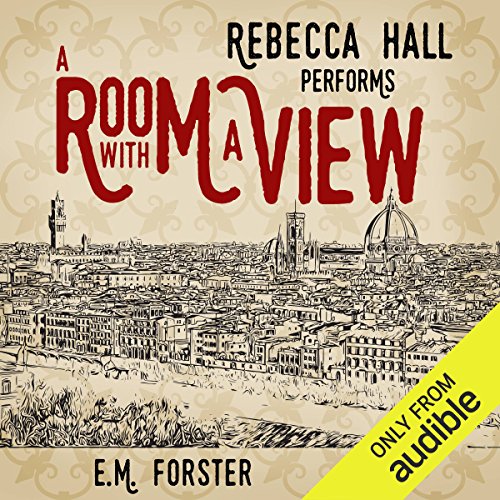 The Blurb
In this rich new audio production, acclaimed British American actress Rebecca Hall brings one of E. M. Forster's most admired works to life in this classic tale of human struggle.

A charming young Englishwoman, Lucy Honeychurch, is wooed by both free-spirited George Emerson and wealthy Cecil Vyse while vacationing in Italy. Though attracted to George, Lucy becomes engaged to Cecil despite twice turning down his proposals. On hearing of the news, George confesses his love, leaving Lucy torn between marrying the more socially acceptable Cecil or George, the man she knows would bring her true happiness. Should Lucy choose social acceptance or true love?

It's both the quintessential Edwardian love story and a classic piece of social comedy, in which Forster is concerned with one of his favourite themes: the "undeveloped heart" of the English middle classes, here represented by a group of tourists and expatriates in Florence. Forster's disapproval of the era's restrictive conventions is reflected through his strong observation of character and society.

A Room with a View was ranked 79th on the Modern Library's list of the 100 best English-language novels of the 20th century. The 1985 film adaptation by James Ivory won three Oscars.
My Thoughts
I really enjoyed the change of pace with this gentle romance. A little confusing at times because of the language and nuances of the Edwardian culture, but still easier to understand than a lot of classic novels.
Each character was perfectly defined and when I watch the film I'll be looking to see if they match how I saw them while listening to the book.
Not many massive twists and turns, it's quite obvious how the story is going to unfold. We have some dramatic moments thrown in like the fight in Italy and murder of a man in front of the main character Lucy. Then there is the usual confusion of emotions and Lucy deciding to 'run away' to Greece to escape her feelings. Of course the book is destined to have a happy ending.
The book already shows E.M Forster's interests in philosophy and humanism, but he doesn't lay it on thickly. He even points out how he feels women are mistreated as the 'fairer sex' and references how they could never become novelists.
I am an affiliate for Audible but I am also a big fan. I pay £7.99 a month for membership which gives me one credit towards a book of any value. Audible books can be expensive but you can look out for special offers, like this one which I paid just £1 for. There are also plenty of free listens including plays and podcasts. I always listen to a sample before making a choice.
Do you use Audible?