Summer Reading is my pleasure, whether on holiday or in the garden, there is nothing better than a cool drink and a book to read. Here are a selection of great reads for this summer I hope you enjoy.
I am an affiliate of Waterstones so links on this page may earn me some money if you click through and buy anything. It won't cost you any extra though, so thank you for supporting my blog.
Summer Reading.
Summer has just started and to celebrate, we've put together a selection of books from all genres that will make your Summer even better. Whether you're looking for a book that'll take you to somewhere new and far away or something set a little closer to home, we've got you! From hot romance novels to thrillers and fascinating non-fiction, we've got something for everyone!
Sally Rooney (Normal People, Conversation With Friends) Beautiful World, Where Are You? Paperback currently £7.49
Jennifer Saint, Ariadne Paper back currently £7.49
Cecily Gayford, Murder by the Seaside Paperback currently £7.49
Just click on the banner (or here) for many more summer paperback reads.
Celebrating Pride in Books
2022 marks the 50th anniversary of the UK's very first Pride march and we've put together a selection of some of the best books to celebrate the date and the iconic achievements of LGBTQ+ figures. We've got a little bit of everything, from poetry to graphic novels. Click the banner above to find more!
Alice Osman, Heartstopper Vol. 1 Graphic novel £10.99
Peter Tatchell, Great LGBTQ+ Speeches Hardback £12.99
Madeline Miller, The Song of Achilles Paperback £9.99
Justin Myers, The Fake Up Hardback £14.99
Perfect Paperback for Summer Reading with 20% Off!
We've got hundreds of paperbacks of all genres on sale for up to 20% off. This includes titles such as Ian Rankin and William McIlvanney's The Dark Remains, Pat Barker's The Women of Troy, Heather Morris' Three Sisters, Shon Faye's The Transgender Issue, Lauren Asher's The Fine Print, Ana Huang's Twisted Love, click the banner above for a lot more!
Richard Osman, The Man Who Died Twice £7.49
Bella Mackie, How to Kill Your Family £7.49
Also, check out some books that are half price this week.
Half Price Books: This includes Betsy Beers and Shonda Rhimes' Inside Bridgerton, Richard E. Grant's A Pocketful of Happiness, Gary Barlow's A Different Stage, David Walliams' Spaceboy, Stephen King's Fairy Tale, and more.
The Women's Prize for Fiction 2022 Winner
The Book of Form and Emptiness by Ruth Ozeki is the winner of the Women's Prize for Fiction 2022 and it is part of our Perfect Paperbacks offer. Check out our website to find more about this year's winner, as well as the rest of the 2022 Longlist.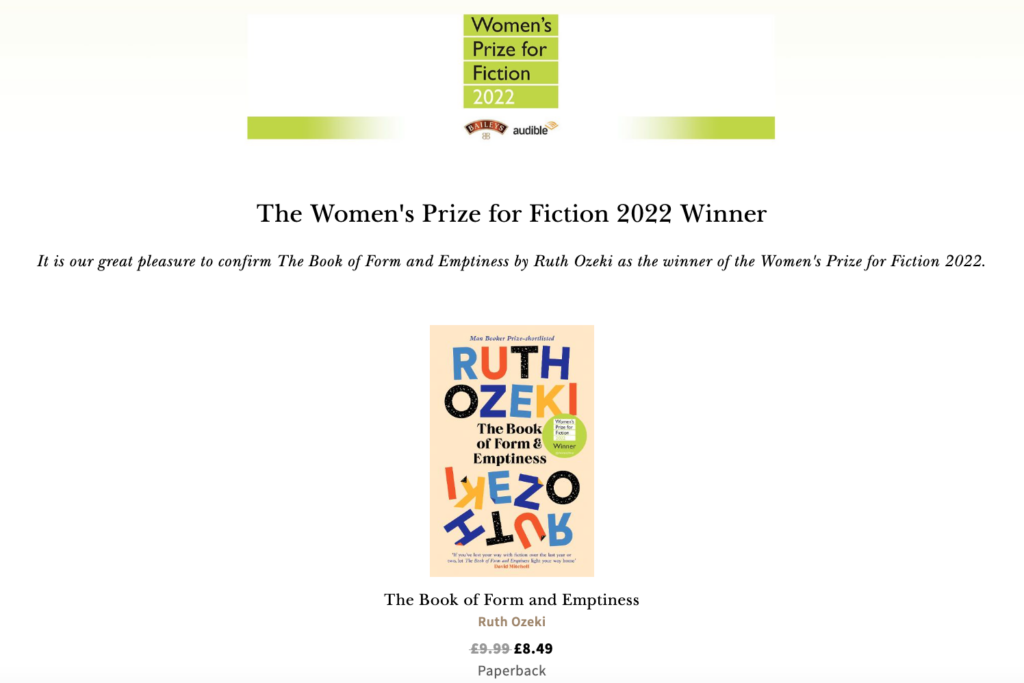 Signed and Special Editions

Special Editions are great addition to any bookshelf and we've got a great selection to offer you. We have signed editions of titles such as Patrick Worrall's The Partisan, Akwaeke Emezi's You Made a Fool of Death With Your Beauty, Taylor Jenkins Reid's Carrie Soto Is Back and Lisa Jewell's The Family Remains. And we also have Exclusive editions of some awesome books, including Victoria Aveyard's Blade Breaker, Maggie O'Farrell's The Marriage Portrait, Colleen Hoover's It Starts With Us and a lot more.
I hope I've given you some inspiration for your own summer reading. If you want to read some reviews or add your own book posts then don't forget to take a look at my Link up for Book lovers.