My latest audio book was from one of my favourite authors, Sheryl Browne. I think My Husband's Girlfriend has to be one of her best so far.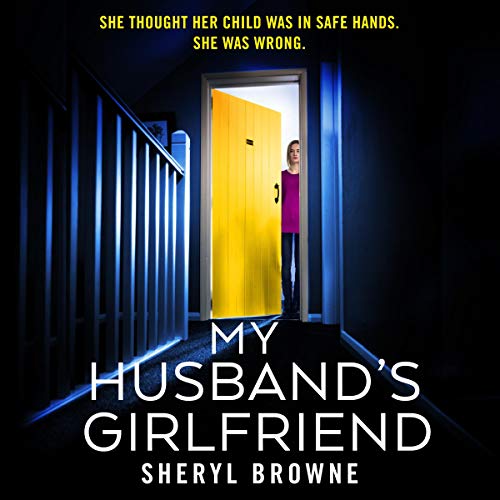 The Blurb
Tucking her little boy Ollie into bed one night, Sarah notices his beloved teddy bear, which she bought him when he was born, is missing and in its place is a new toy given to him by her ex-husband's new girlfriend, Laura. When she asks Ollie about it, he begins to shift uncomfortably before whispering, "Laura told me a big secret, and she said I can never tell you." Sarah's heart sinks.

But when she raises her concerns, nobody wants to listen. To everyone else, Laura is the perfect stepmother, and Sarah is just the jealous ex-wife. But Sarah knew the moment she met Laura she couldn't trust her, from her overly perfect stepmother act to the way she evaded questions about her own history. 

Soon, Ollie is asking to spend more time with his dad and Laura, and shrinking away from Sarah. Then, when she calls to him in the garden one day, Ollie doesn't answer back. The garden is silent. Ollie's sandpit is empty. Ollie has disappeared. 
My Review of My Husband's Girlfriend
After reading some of the other reviews about this book I found the biggest criticism was that there were too many characters, too much going on and too much repetition from each point of view. These were the points I actually enjoyed. I guess listening to the story on Audible does make a difference.
I think Katie Villa narrates the story perfectly, capturing the essence of each character and bringing them to life. As someone from the West Midlands (Like Sheryl Browne) I get the accents and feel like I'm in a story from someone I know.
Saying that, there was a lot going on. So many twists and turns, and so many characters that all had their own little things going on. The stories were all tied up together in the end which was both exciting and satisfactory.
Being a fan of Sheryl, I do relate to her story telling. She likes her readers to get to know her characters, she adds a little tension, but nothing to horrific or gory. She starts slowly and works up into a frenzy. Then, as I have already said, the story is all brought together at the end.
I've never had to deal with a husband's girlfriend (mine ran off to another Country and they didn't go and stay until they were teens…nice free holidays for the kids in the South of France though!) But, I can understand the apprehension, the suspicion and how things can all be blown out of proportion from the Mother's point of view. I can also understand the frustration of others around who can so easily blame the Mother's behaviour on jealousy. You should always trust a Mother's instinct though.
I got through this book quickly and really enjoyed it. I will look forward to Sheryl's next book.
I listened to the book on audible, you can also buy it on Amazon where it is only £1.99 (currently) on Kindle and £8.72 in paperback.
I hope you enjoyed my review you can read more here. Have you read this book or any other of Sheryl Browne's thrillers. I'd love to hear your thoughts.