My latest listen on Audible was Little One by Sarah A. Denzil. My post will include affiliate links which if you click and go on to buy you may earn me a little money but there will be no extra cost to yourself. Thank you for your support.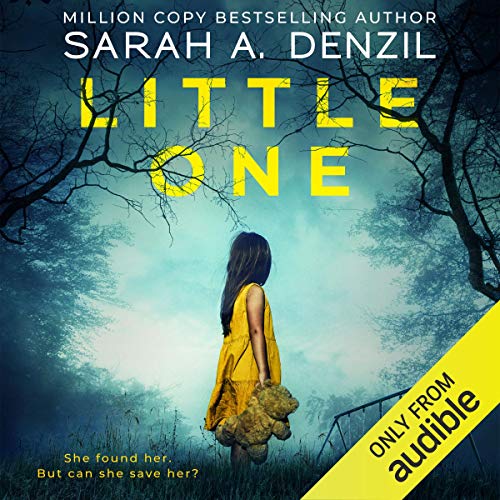 Little One – The Blurb
"Take my hand, little one."
Fran finds her standing by the swings. A little girl, Esther, no older than seven years old, by herself in the dead of night, her pretty but old-fashioned yellow dress covered in grass stains and her hair dishevelled. She says she's waiting for Father, and that strikes Fran as particularly odd.
After Esther is reunited with her family, Fran can't stop thinking about this pious child whose imaginary friend is God. Fran's instincts tell her something is very wrong. Why does Esther keep running away from home, and how did she get that bruise on her leg?
Fran's husband warns her not to get too close, but one morning, Esther and her family disappear. Where did they go? Why did they leave their furniture behind?
Fran knows in her gut that something terrible is going to happen to that child, and she can't stand by while it happens. No matter the cost.
After all, she found her. But can she save her?
My Review of Little One
I thought this was a really interesting story and found it difficult to put down (stop listening.)
It starts with the main character, Fran, finding a little girl, Esther, seemingly lost. She becomes intrigued with the family from Arizona that are new to the little English village in which she lives. The family soon become the topic of gossip in the village though, and when Fran believes Esther and her mother Mary to be in danger she calls the police to investigate. The evidence for her call is a few bruises, the fact that the girl runs away from home twice and the lack of caring relationship between the parents. The police decide there is nothing going on but the gossip carries on.
Eventually, the new family disappear and run off back to Arizona. This leaves Fran feeling guilty as she played a part in their persecution by the village.
Then Fran turns detective and decides to find out where they have gone, why they came to England and in her mind her goal is to save them.
This involves Fran taking a trip to Arizona, in which her seemingly caring husband refuses to take with her. This bit I found strange as he knows she's not mentally stable and still grieving for the loss of their daughter who died from SIDS (Sudden Infant Death Syndrome.)
It all becomes clear in the end but it's a harrowing journey.
This is a gripping story with lots of good description which keeps you reading. It does contain a lot of triggers though including, baby loss, suicide, cult movement, child abuse and possibly a few more. Be wary of an emotional journey.
The plot has a few twists and turns, you can dig holes in it but I think it comes together at the end. The characterisation is good and you can invest in the main characters. I think the transition from a small English village to Arizona is strange but it works, and in the end it all makes sense.
This is the first book by Sarah A. Denzil that I have read but I will certainly look at some more. The narrator did a really good job of bringing the book to life, I can imagine her voice being the voice of Fran, and she did a good Arizona accent too.
Audible
I listened to Little One on Audible where I purchased it with my monthly credit. Audible gives you one credit a month for £7.99, other books are quite expensive, but while you are waiting for your credit there are plenty of free podcasts to listen to, mostly exclusive to Audible. They are also offering some classic books each month for you to read for free, this month it's Alice In Wonderland read by Jodie Comer, and I've just downloaded it.
Audible also do daily reads for £2.99 each and often has offers where you can buy three books for the price of two. I've been a member for several years now.
You can also buy the book on Amazon (Affiliate link)
Thank you for reading. Do let me know if you've read the book in the comments, I'd be interested to hear your thoughts.
Read more of My Book Reviews here.