I haven't read a book from Jo Jo Moyes for a long time, so I took the opportunity to buy an audiobook for £3 in the Audible sale and chose Night Music. Here is what I thought of it.
l will be using affiliate links which will incur not extra cost to you but may earn me a little cash, so thank you if you go on to purchase something.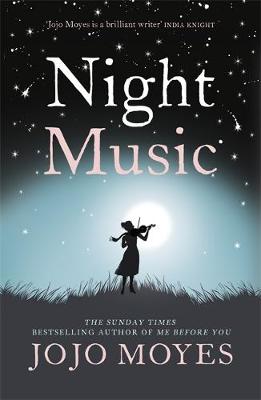 The Blurb
Isabel Delancey has always taken her gifted life for granted. But when her husband dies suddenly, leaving her with a mountain of debt, she and her two children are forced to abandon their home and move to a crumbling pile in the country.

With the house falling down around them, and the last of her savings fast disappearing, Isabel turns to her neighbours, not knowing that her mere presence there has stirred up long-standing obsessions.

As she fights to make her house a home, passions and lives collide. Isabel will discover an instinct for survival she never knew she had – and that a heart can play a new song . . .
The Audio Book
I've listened to Clare Corbett, the narrator, a few times now and I enjoy her storytelling. When buying an audio book it's always a good idea to listen to a little clip to check that you can get on with the narrator, there is nothing worse than listening to a voice, or accent that grates on you. Clare Corbett is fairly easy to listen too.
The Blurb for the Audio Book.
The Spanish House is a mixture of designs, Georgian, Gothic and Moorish, as if whoever started it had simply got bored. It has long been known as an architectural folly to locals, and is now nearly derelict to boot.

When its reclusive owner dies intestate, the Spanish House is left to his city-dwelling niece. For Isabel, recently widowed, the house is a potential lifeline – the only hope she has of providing for her two children without having to sell her most treasured possession.

But for neighbour Matt McCarthy, the house is revenge – on the family who ruined his father. For his wife it's the key to the perfect family life, while a struggling property developer sees in it a whole new future. As desires clash and intertwine, lives and loves are demolished – and the Spanish House becomes a true folly indeed…
My Review of Night Music
Jo Jo Moyes has a wonderful way of making you believe in the characters of her stories, whether it's the main character, the protagonist, the love interest or even the shop keeper. You feel like you know them all personally.
I didn't take to the main character straight away, she seemed very self absorbed and even had little time for her children. My two favourite characters were her mute son Tierry and the labourer Byron. I loved how their relationship developed.
The plot had plenty of little twists and turns and just when you thought everything was a bit 'everyday ordinary' things take a drastic, even sinister turn. The ending was a little surprising.
I listened to the book fairly quickly, I wanted to know what was going to happen next, it really is a page turner.
If you like love stories that are a little out of the ordinary, then you will enjoy this. It is ultimately a love story, but is the love for something other than romance?
If you've read this book? Let me know what you thought of it.