I have just finished listening to The Starless sea on Audible. This post contains affiliate links which means if you click them I may earn a little money, at no extra cost to you. So thank you for your support.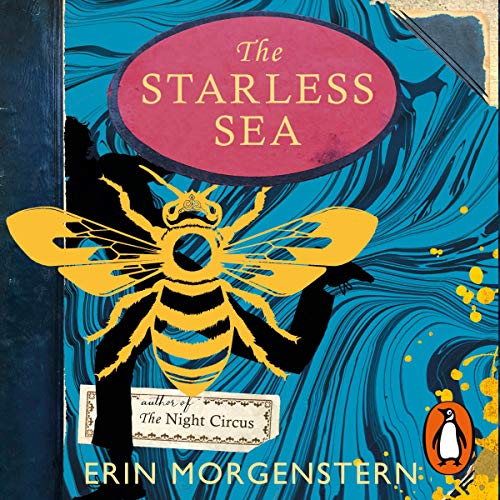 The Blurb
Are you lost or are you exploring?
When Zachary Rawlins stumbles across a strange book hidden in his university library it leads him on a quest unlike any other. Its pages entrance him with their tales of lovelorn prisoners, lost cities and nameless acolytes, but they also contain something impossible: a recollection from his own childhood.
Determined to solve the puzzle of the book, Zachary follows the clues he finds on the cover – a bee, a key and a sword. They guide him to a masquerade ball, to a dangerous secret club and finally through a magical doorway created by the fierce and mysterious Mirabel. This door leads to a subterranean labyrinth filled with stories, hidden far beneath the surface of the earth.
When the labyrinth is threatened, Zachary must race with Mirabel and Dorian, a handsome barefoot man with shifting alliances, through its twisting tunnels and crowded ballrooms, searching for the end of his story.
You are invited to join Zachary on the starless sea: the home of storytellers, story-lovers and those who will protect our stories at all costs.
My Review
I chose to listen to this on Audible, it's 18 hours and 37 mins and the authors change. Some people are okay with different voice actors and some are not, it's a very personal choice. I really don't mind and I think different voice actors add extra 'character' to a story. Having said that, this book is so many stories within a story I feel the need for a paper copy to read.
I love stories within stories, books within books. I find them fascinating and I've enjoyed many such books before. The first one being Sophie's World by Jostein Gaarder and more recently The Binding by Bridget Collins. I think that The Starless Sea is more comparable to The Binding.
It's not for everyone, flipping between stories and times.The Starless Sea leaves you with many questions (Which is why I want a paper copy) and you will get confused I'm sure. It starts with a fairly regular story, then gets weird, then gets even weirder, followed by some normal stuff. I think you have to be able to suspend your normal beliefs and be a lover of fairytales to get the most from this book.
As for the actual story, I can't really say more than the blurb. The Main character, Zachary, is pivotal throughout. But the other characters have their own stories, and that's what this book is about, stories, real and imagined, believable and fantastical.
I've not read The Night Circus by Erin Morgenstern but I am very tempted, so it will be going on my TBR pile.
Thank you for reading. Remember you can link up your own book reviews to my monthly linky, Book Worms Monthly.
My review is also added to Lovely Audiobooks Link up party