I've not been around much lately, I've been on holiday to Cornwall and it was a much needed break. However, when you are generally housebound and relient on a wheelchair, going on holiday can be a daunting experience.
The first time I went on holiday in a wheelchair was back in 2016, not long after getting ill. We had a holiday booked and I didn't want to dissapoint the kids. The holiday park we'd chosen was very hilly but a quick call to Haven and they changed parks for us. We ended up going to Blackpool where it was flatter.
The second issue came when we had no car. I was the only driver in the house at the time and without the use of my feet I couldn't drive our car so we had to let it go. We ended up travelling by train to Blackpool with three kids, all our luggage and a wheelchair. It wasn't the most enjoyable of journies but at least I'd learned beforehand that I had to book for assistance on each train.
I'm normally a shy, independent person, so having to accept help all the time was so difficult for me to get used to. I really didn't enjoy the holiday. The kids had a great time but I was still getting used to my chair and not being able to do anything for myself.
Cornwall
This year we headed all the way to Cornwall for our holiday, generally a three to four hour car journey for us. I'd not been to Cornwall for 15 years and I really wanted to go again. Plus I wanted the kids to enjoy somewhere beautiful and relaxing rather than the hustle and bustle of busy sea fronts with crowded shops, restaurants and arcades.
Before the holiday I felt myself feeling stressed. I so wanted to go, but the journey was long and I was scared that I couldn't cope. We decided to take it nice and easy, with a couple of stops on the way. The traffic was kind and we arrived in around four hours. We booked into the caravan, unpacked and went to get food. When I got into bed that night I just wanted to cry. I was in so much pain because of being cramped up in the car, I'd already bumped into almost every surface in the caravan because I wasn't used to it. And then I had to sleep in an unfamiliar bed which was awkward to get into because of lack of space.
It Wasn't So Bad
The next day, the kids woke up and made their own breakfast before I awoke. Then we all got ready and went to nearby St Ives. At first it was quite awful, the pavements were cobbled with high kerbs and people were walking in the road while cars were trying to get past…and it was hilly!
I managed to get from a parking place we were lucky to find, down to the sea front which was flatter and less crowded. It was much more relaxing. There is so much to think about while in a wheelchair, particularly an electric one. I can't get up or down kerbs, uneven pavements are a nightmare, and I have to watch my battery power like a hawk.
We had lunch and the kids played on the beach while I watched from the promenade. It hurts that I can't go down on the beach and play with them, but I've got used to that over the years.
A Beach Wheelchair.
The next day we went to a different beach where I knew they had beach wheelchairs. I was so excited to be able to get on the beach it didn't seem to matter that it was dull and overcast, and very blustery. The beach wheelchair was so comfortable! My husband had to push me but it rolled across the sand pretty easy. I even went right down to the water's edge. Hubby pushed me into the sea without warning…he could have at least given me the chance to take my shoes off!
Beach wheelchairs are amazing. In most places they are provided by charities so you don't have to pay for them. All they ask is that you make a donation of what you can afford. The downside is, you have no independence in them. Once my husband had left me to go and explore I was well and truly stranded. I couldn't even turn the chair around. They are also difficult to get out of! I did manage to get out and transfer myself to a nearby bench so I could get a different view.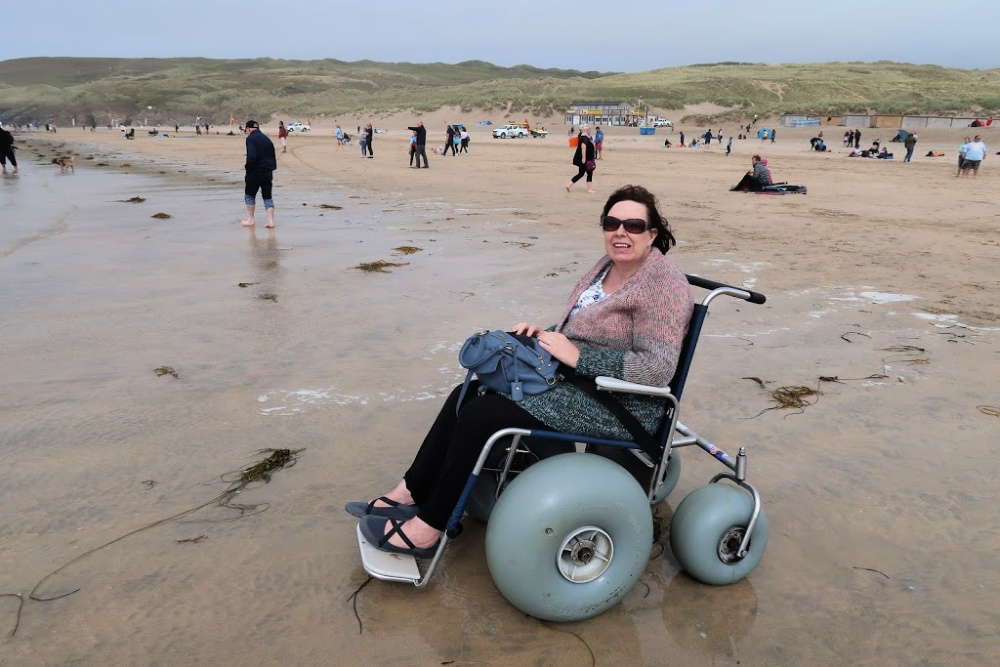 Quiet Places
Quiet places are the best when you are in a wheelchair, you don't have to deal with other people, in particular those that are not looking where they are going, or walk in front of you thinking that you can stop instantly. Well, I can, but my reflexes are not so quick, so I run you over, I'm sorry but I can't help it.
The park we chose in Cornwall was very quiet. I could even manouver around the shop without hitting anyone. The club house was good too, and we even managed to get a table to sit at each time we went. (In previous Haven camps we have had to venture out as soon as the club opened to get a spot.) I loved being able to get around withou running people over constantly.
Even when we were out and about there didn't seem anywhere in Cornwall that was truly packed like other holiday destinations. Maybe it was because the weather wasn't brilliant, but it wasn't exactly awful either. (And it was great for surfing and body boarding if that's your thing, like it was ours 15 years ago.)
Issues with the Wheelchair
The clubhouse and outdoor cafe where upstairs and the lift didn't work! We had to catch someone to go and open the fire exit, then I had to drive my chair uphill to get in. The door even had a small step which I got stuck on a couple of times. Everyone was really helpful though and over the years I've learned to accept help more graciously. (not that I was rude before, just moody that I had to ask in the first place.)
The other issue was battery life. We charged my battery every night in the caravan and it did very well. Then we had a lovely day at Paradise Park which we all loved so much. The problem was we spent a lot of time there and I ended up running out my battery completely. My husband had to push me back to the exit and the kids were upset because they thought we were leaving. My chair is not made for pushing as there are no handles, so it's a big strain on my husband's back. When we got to the exit, however, we were told that they had electric scooters and I could have had one from the start!! Why do we forget to ask?
So my husband pushed the dead and empty wheelchair back to the car after I'd transferred into a lovely big scooter. It meant we could spend another hour in the park and got to see another fabulous bird show in the sunshine.
Rest
After the first night I felt so much better. I managed to work my way around the caravan without bumping into things. Even the bed was really quite comfortable once I'd actually got into it.
The kids were happy and the whole week was taken at a relaxed pace. There is something about Cornwall that makes you slow down and everywhere is so beautiful.
I didn't get much pain, I think it was a mixture of the relaxed pace and lack of walking. I walk too much around my home. The kitchen is a couple of metres down the hallway from the living room. And I can only make one trip without having a rest. My kitchen itself is pretty big and I struggle to walk from one end to the other. Thankfully I have my chairs to sit on. Then I have to get up to walk down the hall to the toilet, or the door. At bedtime I have to pull myself up the stairs. I may spend a lot of time sitting around, but I do a lot of short bursts of walking too. And it's hurting me. I've hurt so much since getting home. Maybe I need to go and live in a caravan?
Or maybe I need to face facts that my walking is not going to improve and get myself a wheelchair to use indoors.
Home
The journey back was much harder. It took over an hour longer to get back because of traffic. About halfway back my right leg spasmed and gave me pain for the rest of the journey.
I loved going to Cornwall, but I don't love long journies.