The title of this post should really be what I've been listening to lately, but I do love my audio books. In this post I'll include links to both Audio and Book versions.
Three Things About Elsie by Joanna Cannon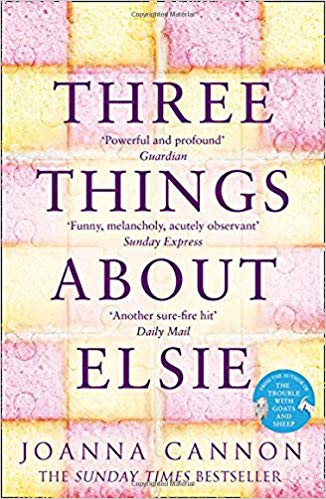 The Blurb
84-year-old Florence has fallen in her flat at Cherry Tree Home for the Elderly. As she waits to be rescued, she considers the charming new resident who looks exactly like a man she once knew – a man who died sixty years ago. His arrival has stirred distant memories she and Elsie thought they'd laid to rest. Lying prone in the front room, Florence wonders if a terrible secret from her past is about to come to light …
My Thoughts
I absolutely loved this book and didn't want to put it down. The characters are beautifully described and the story gently told. There are twists and turns, some of them easy to work out, but the end still leaves you guessing a little. Can you work out what the third thing about Elsie is?
I love that even old people can have adventures, as well as skeletons in the closet. The story moved at a good pace despite the over use of flowery descriptions. There were so many things I read that I would love to quote…probably too many as I can't remember any! But it didn't distract from the story which had everything you need for a good read.
The Hoarder by Jess Kidd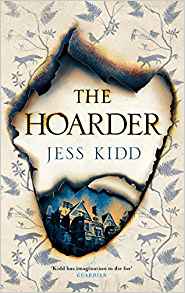 The Blurb
Maud Drennan – underpaid carer and unintentional psychic – is the latest in a long line of dogsbodies for the ancient, belligerent Cathal Flood. Yet despite her best efforts, Maud is drawn into the mysteries concealed in his filthy, once-grand home. She realises that something is changing: Cathal, and the junk-filled rooms, are opening up to her.
With only her agoraphobic landlady and a troop of sarcastic ghostly saints to help, Maud must uncover what lies beneath Cathal's decades-old hostility, and the strange activities of the house itself. And if someone has hidden a secret there, how far will they go to ensure it remains buried?
My Thoughts
Another story about an old person with secrets, I guess if anything it makes me feel younger 🙂
This is another great story if a little weird. The main character obviously has some sort of psychic gift, or she's just a little bonkers. No matter, I found her guardians entertaining.
The story has some great twists and secrets to discover, and it's another page turner. The old man has a certain charm despite him hiding it well. There were parts that made me laugh, some that made me tense and others that even made a lump in my throat.
Great read if you like something a little different from the normal thriller.
The Ex-Wife by Jess Ryder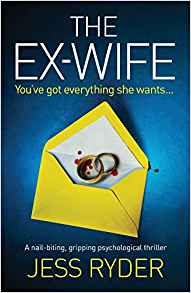 The Blurb
Newly married Natasha has the perfect house, a loving husband and a beautiful little girl called Emily. She'd have it all if it wasn't for Jen, her husband's ex-wife who just won't leave them alone …
Then Natasha returns home one day to find her husband and Emily gone without trace. Desperate to get her daughter back, Natasha will do anything even if it means accepting an offer of help from Jen. But can she trust her? And do either of them really know the man they married?



My Thoughts
This is a fast paced book with lots of twists and turns. Sometimes it's hard to figure out who's side you're on. Then a certain character reveals their true colours which makes you wonder why any of the other characters have survived at all.
I really enjoyed the way the characters developed and the story line was strong. There was a couple of twists I really didn't expect. The story flips from Now to Then and for a while you are not really sure of the relationship between the characters in the different time scales.
There were one or two things which I felt were a little far fetched but they added to the suspense and gave explanations as to why the characters acted the way they did.