Description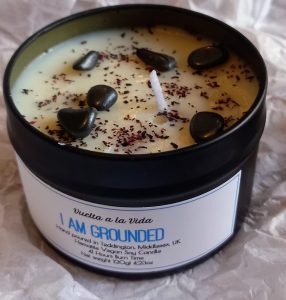 I Am Grounded Crystal Candle
Sometimes we need to remind ourselves not to dwell on the past.
We need to remember to stay in the present; focus on the here and now.
I am Grounded candle filled with hematite stone and hibiscus invites you to gently release what is no longer serving your
highest good.
Top notes: bergamot & orange
Middle notes: vetiver & orris
Base notes: musk & sandalwood
Hematite is a grounding and protective stone, that is mostly used for protection and stability.
Candles are a firm favourite and these would make a wonderful little gift or keep for yourself. They smell gorgeous and have cute little crystals which will be left behind once the candle has finished. The wicks are wax and the candles are vegan friendly. They are Glossy waterproof white vinyl 100 gsm.
cotton wick candle
5cm diameter
41 hours burn time
reusable container
I am Grounded Crystal candle sticker on front
I am really pleased to bring you my new series of candles from Vuelta a la Vida, a Uk company.
At Vuelta a la Vida, we believe our mental wellbeing and how you feel about yourself is key to holistic wellness and self-care. That is why our candles not only help you relax with our beautiful fragrance oil blends, but come with 1 affirmation card to stimulate thoughts of self-love, empowerment and inner peace.